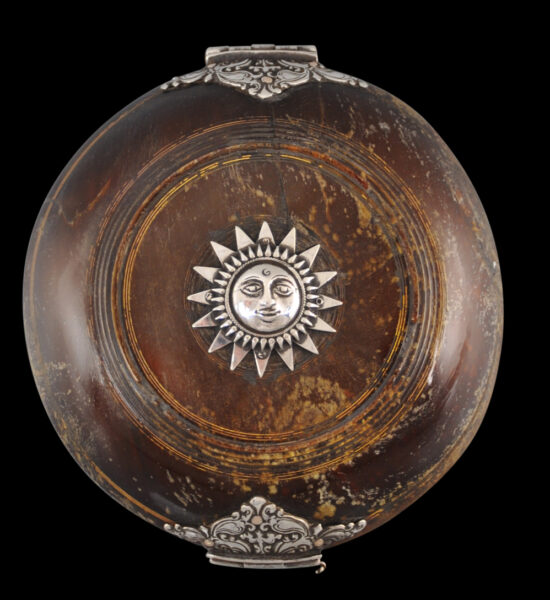 6803
Enquiry about object: 6803
Rare Sri Lankan Horn & Silver Box
Sri Lanka 18th-19th century
width: 10.2cm, height: 11cm, depth: 5.2cm, weight: 58g
This elegant and good-sized box has been made from flattened horn (probably buffalo horn) that has then been pressed into its current shape and mounted with beautifully chased, pierced and engraved high-grade silver.
The box is in two hinged hemispherical halves. The top cover is decorated with a central silver solar plaque with a face. The hinge and latch are beautifully worked and pierced with typical vegetal scrollwork.
The box is in the form of a traditional box (chunam) for powdered lime used as part of the betel quid, but it is unlikely that the box was intended for this purpose: it is too delicate. Usually, horn boxes were used to hold medicines or cosmetic (in which case the box would be termed a behet-karakaya), although this box seems too large for these purposes.
The box is in a fine stable condition. The horn has some old cracking and chipping as might be expected given the material and its age.
References
Coomaraswamy, A.K., Mediaeval Sinhalese Art, Pantheon Books, 1956 reprint of the 1908 edition.