8842
Enquiry about object: 8842
Sri Lankan Bronze Image of Parvati
Sri Lanka 19th-20th century
height: 82cm
Provenance
from the collection of Sir Christopher Ondaatje, UK.
This tall and remarkably elegant image of Parvati is based on much earlier forms, such as the 9th century gilt bronze image of Tara from Sri Lanka, shown below in the British Museum.
All the classically desirable elements of the female form are present and accentuated in the image here – the rounded hips, the tiny waist, long legs, and the ample breasts.
The hair is piled high over the head in a particularly elaborate coiffure. The face is finely rendered with arched eyebrows, an aquiline nose, pursed lips and elongated ears decorated with large earrings.
The image is largely naked other than for a sacred cord across the chest and cords about the groin and waist.
Parvati holds a lotus bud in each of her hands.
The image stands on a rounded lotus petal dais,
This actual statue is illustrated in the book on the Ondaatje Collection (Weereratne, 1999, p. 62).  It is attributed in the book to the 17th-18th centuries. However, we feel this is incorrect and a later attribution is appropriate.
Sir Christopher Ondaatje is of Sinhalese and Dutch ancestry and was born in Sri Lanka (or Ceylon as it was known) in 1933. A businessman, writer and Olympian, he is the older brother of author Michael Ondaatje, author of The English Patient, among other works.
The image here has a dark patina and is in a fine, stable condition.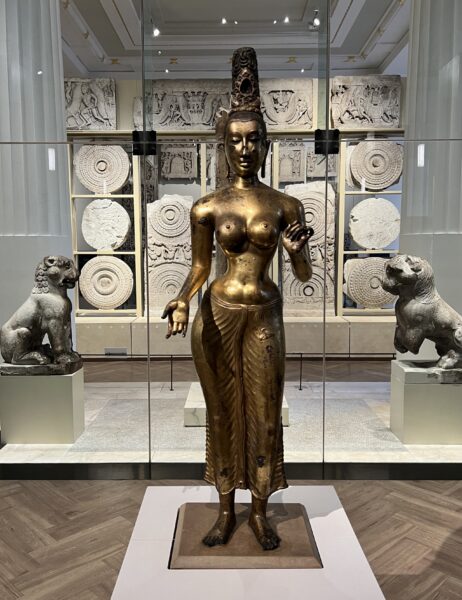 Above: gilded Tara image, 9th century, Sri Lanka, in the British Museum
Scroll down for more images
References
Coomaraswamy, A.K., Mediaeval Sinhalese Art, Pantheon Books, 1956 reprint of the 1908 edition.
Weereratne, N., Visions of an Island: Rare works from Sri Lanka in the Christopher Ondaatje Collection, Harper Collins, 1999.