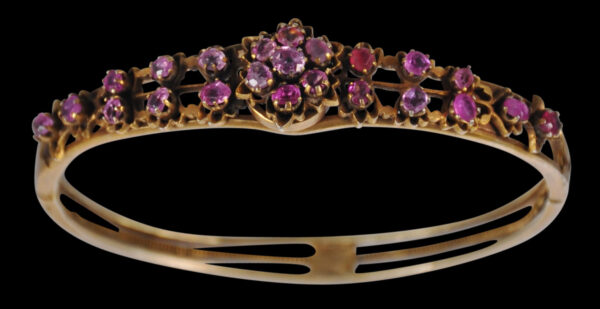 9035
Enquiry about object: 9035
Sri Lankan Gilded Silver Bracelet set with Pink Sapphires
southern coastal Sri Lanka circa 1920
inner diameter: widest at 6.2cm, weight: 19g
This fine and elegant bracelet from early 20th century Sri Lanka (Ceylon), is of gilded (gold-plated) silver set with 23 faceted pink sapphires, a locally sourced precious stone in Sri Lanka.
The bracelet opens with a hinge and there is a gilded silver chain to keep the two halves from over-opening.
The gilded silver chassis comprises three bands all the way around. The pink sapphires are in floral settings, in two sets of double rows, which meet in the middle with a floral motif set with further pink sapphires.
A brooch of similar construction is illustrated in Coomaraswamy (1956, plate XLIX). Other jewellery with related work are illustrated in Wimalaratne & Gomes (2001).
Ceylonese silversmiths and other craftsmen produced items with Dutch influence during the eighteenth and nineteenth centuries. The style was followed through into the twentieth century.
Such jewellery was made in the southern coastal areas of Sri Lanka such as Matara, Galle and Colombo. It was made for local ladies as well as local colonial expatriates.
The bracelet here is wearable, stable and without losses. There is minor wear to the gilding as might be expected.
References
Coomaraswamy, A.K., Mediaeval Sinhalese Art, Pantheon Books, 1956.
Wimalaratne, K.D.G. & D. Gomes, Costumes of Sri Lanka, 2001.