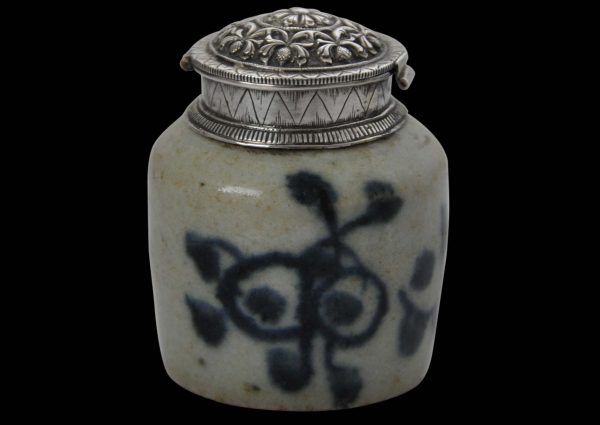 4089
Enquiry about object: 4089
Porcelain Snuff Bottle with Silver Mounts
Sri Lanka 18th-19th century
height: 5.3cm, diameter: 4.3cm
Provenance
private collection, London.
This very appealing, small snuff bottle comprises a porcelain or stoneware base with tapering sides and decorated in blue and cream glaze, which is from China, and a domed hinged silver lid, that has been applied in Sri Lanka (Ceylon).
The manner of the silverwork identifies the ensemble as having come from Sri Lanka – the stylised orchid motif pattern on the lid is a motif employed in the silverwork that originated from Kandy in Sri Lanka in the 18th and 19th centuries.
Click here to see three related examples in the British Museum, which were acquired in 1898.
The example here is in excellent condition.
References
Coomaraswamy, A.K., Mediaeval Sinhalese Art, Pantheon Books, 1956 reprint of the 1908 edition.