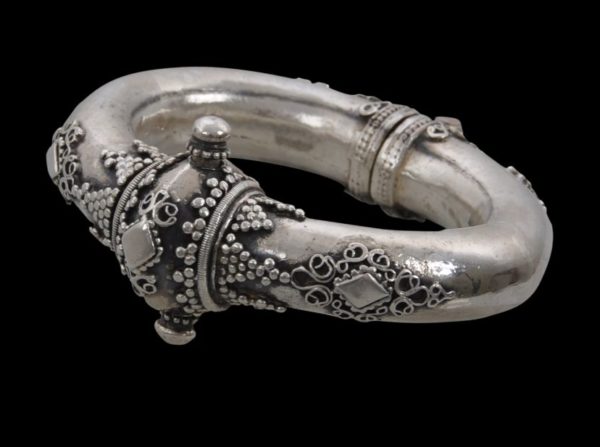 1647
Enquiry about object: 1647
Fine, South Indian Silver Bracelet
South India or Sri Lanka 19th century
external width: 9.8cm, internal width at widest point: 6.8cm, weight: 156g
This fine and wearable silver bracelet is from South India or possibly Sri Lanka. It is hinged and opens with a screw mechanism.
It is of thick but hollow silver, so has good weight. The sides are plain and polished. The front of the bracelet has a high mid-section with spherical finials which hide the screw mechanism, as well as applied silver wire work and splendid applied granulation work arrayed in triangular motifs. The rear of the bracelet is similarly decorated.
Related bracelets are illustrated in van Cutsem (2002, p. 169).
Bracelets with this type of decorative work were worn in both South India and Sri Lanka with Tamil silversmiths operating in both locations so it is possible that this bracelet is from either place.
It is in excellent condition. It is of solid silver which has developed a lovely patina from age and wear. It is of a good size and would fit most wrists.
References
van Cutsem, A., A World of Bracelets: Africa, Asia, Oceania, America, Skira, 2002.