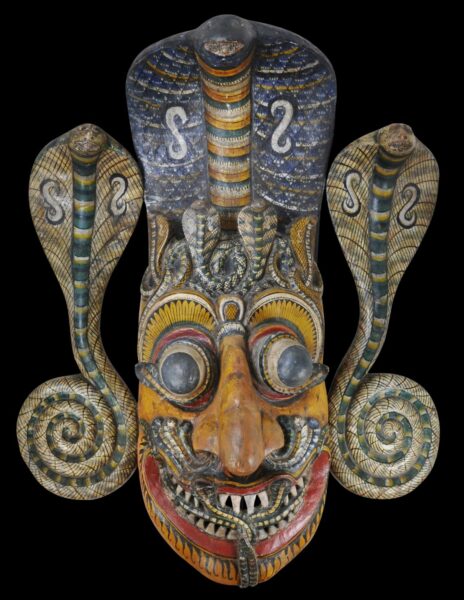 6697
Enquiry about object: 6697
Magnificent & Large Sri Lankan Cobra Demon (Maha Raksa) Dance Mask
Sinhala people, Coastal Sri Lanka 19th century
height: approximately 79cm (without stand), width: 62cm
This is the largest and the best Sri Lankan dance mask that we have encountered: it is in excellent condition, whimsical, rare and very decorative. It is a superb, museum piece.
Carved from light wood and delicately painted with polychrome, the mask portrays Maha Raksa, a demon figure in Sri Lankan dance. The character has dramatically protruding eyes; a pierced mouth of sharp teeth (it is this piercing which allows the dancer to see out); prominent, detachable ears; and a wonderfully realistically rendered nose.
But most dramatic of all are the snakes: the mask is covered in them. A large, hooded cobra rears over the entire mask, Curled-up cobras comprise each of the large and protruding ears.  Four cobras comprise the coiffure. Snakes are wrapped around the popping eyeballs. There is a moustache of snakes. And snakes spill from the mouth. The cobras and other snakes are intended to be protective.
The prominent use of snake imagery is not surprising. Snakes are always apparent in Sri Lanka. The luxuriant jungle is home to many, as well as animals that prey on them, such as mongooses.
A related but less elaborate mask is illustrated in Manukulasooriya (2005, p. 94).
Such masks were used in the Kolam dances of rural, coastal Sri Lanka. Disguise and mimicry are features of this dance tradition. The dancers wear masks and costumes and perform with mime, dance and some dialogue. The characters are divided into several types: humans (for example, princes, the drummer and his wife, the European), animals and demons. Performances depict village scenes and extend to stories that involve spirits and creatures from Hindu mythology.
The dances did have ritual and ceremonial purpose and often were connected with rituals concerned with the expulsion of evil. One important type of dance is the gara yakuma, performed to exercise evil, and the rassa performers play a significant role.
The mask is of a local softwood: either Nux vomica, Erythria indica or Altonia schelaris. There are no significant losses or repairs. The mask comes with a fine, custom-made stand, or it could be displayed on a wall.
References
Jayewardene, E.D.W., 'Masks of Sri Lanka', Arts of Asia, May-June 1974.
Manukulasooriya, R., Masks of Sri Lanka and Mask and Kolam Dancing, Sri Lanka, 2005.