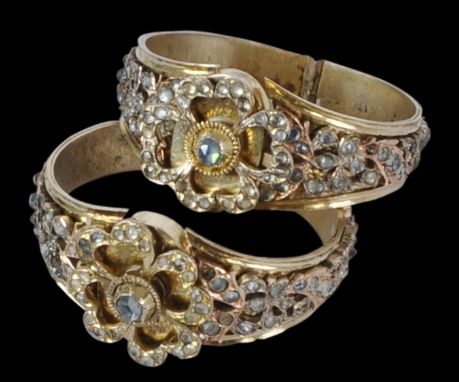 6275
Enquiry about object: 6275
Pair of Sri Lankan Pierced Gilded Silver Bracelets set with Zircons
Coastal regions, Sri Lanka early 20th century
internal diameters: 4.8cm x 4.2cm, combined weight: 78g
This fine pair of bracelets of gilded (gold-plated) silver is set with faceted stones known in Sri Lanka as Matara 'diamonds' (white zircons) in a foliate, pierced silver metal setting. (Matara is a sea port on the south coast of Sri Lanka from where the stones come.)
The face of each bracelet is decorated with an applied open-work flower motifs, set with zircons. The hoops of each are further decorated with pierced floral work set with zircons against gilded backing plates.
A brooch of similar construction is illustrated in Coomaraswamy (1956, plate XLIX). Other brooches with related work are illustrated in Wimalaratne & Gomes (2001).
Ceylonese silversmiths and other craftsmen produced items with Dutch influence during the eighteenth and nineteenth centuries. The style was followed through into the twentieth century.
The bracelets here are wearable, stable and without losses. They are hinged and open out to make putting them on more easy.
References
Coomaraswamy, A.K., Mediaeval Sinhalese Art, Pantheon Books, 1956.
Wimalaratne, K.D.G. & D. Gomes, Costumes of Sri Lanka, 2001.