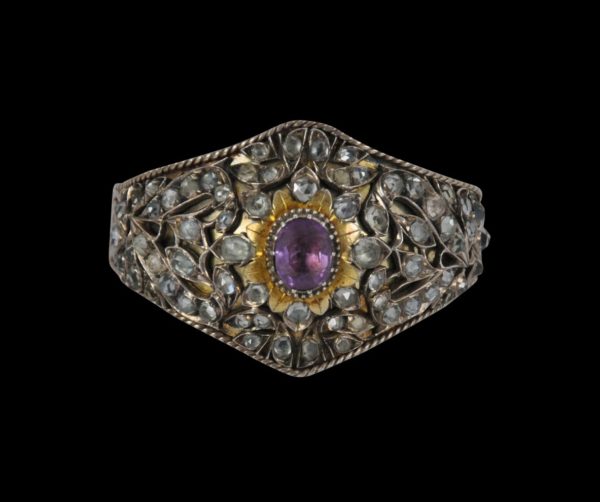 5938
Enquiry about object: 5938
Sri Lankan Pierced Silver & Gilt Bracelet set with Zircons & an Amethyst
Coastal regions, Sri Lanka circa 1920
width of face: 3.7cm, internal diameter: 5.1cm, weight: 37.4g
Provenance
Art Market, Scotland
This fine 'C'-form bracelet of gilded (gold-plated) silver is set with faceted stones known in Sri Lanka as Matara 'diamonds' (white zircons) in a foliate, pierce silver  metal setting, around a single large, faceted amethyst. (Matara is a sea port on the south coast of Sri Lanka from where the stones come.)
The amethyst is set in a sun-bust of flower-like, raised plaque that has been gilded.
It comprises two layers, other than the arms which are pierced. There is the pierced front-piece and then a gilded backing plate.
A brooch of similar construction is illustrated in Coomaraswamy (1956, plate XLIX). Other brooches with related work are illustrated in Wimalaratne & Gomes (2001).
Ceylonese silversmiths and other craftsmen produced items with Dutch influence during the eighteenth and nineteenth centuries. The style was followed through into the twentieth century.
The bracelet here is wearable, stable and without losses.
References
Coomaraswamy, A.K., Mediaeval Sinhalese Art, Pantheon Books, 1956.
Wimalaratne, K.D.G. & D. Gomes, Costumes of Sri Lanka, 2001.