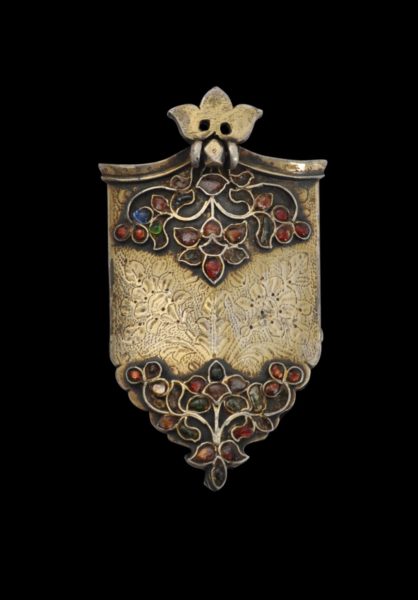 6226
Enquiry about object: 6226
Unusual Deccan, Engraved, Silver-Gilt Dagger Locket
Deccan, India 17th century
length: 7.9cm, width: 5.2cm, weight: 60g
Provenance
art market, London
This unusual gilded silver locket or scabbard fitting for a dagger is engraved on both sides with fine, Mughal-inspired poppy blooms, and decorated top and bottom (again on both sides) with fine gilded silver applied wire work in the form of stylised poppy motifs in-filled with glass backed by multi-coloured foil to emulate jewels (some losses).
It would have belonged to a particularly fine dagger and survives as a particularly interesting example of earlier Deccani silverwork. The gilding has softened with age and developed a particularly pleasing hue.
References
Najat Haidar, N., & M. Sardar, Sultans of Deccan India 1500-1700: Opulence and Fantasy, Metropolitan Museum of Art, 2015.