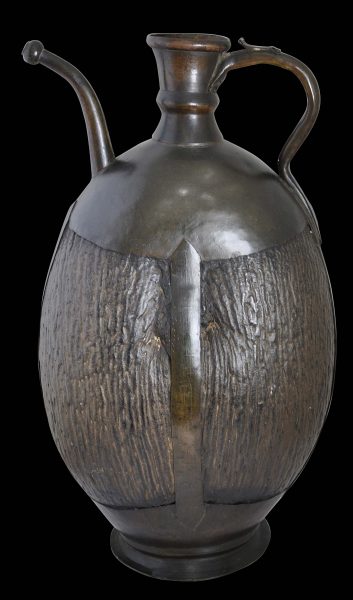 5089
Enquiry about object: 5089
Rare Indian Coco-de-Mer Ewer
India Circa 17th century
height: 45cm, width: 25cm, thickness: 18cm, weight: 3,070g
This very unusual and somewhat large ewer comprises the two halves of a coco-de-mer nut (Lodoicea maldivica) which have been mounted with copper alloy mounts. It is the first time that we have seen the use of a coco-de-mer nut in this manner, to make the sides of a ewer.
The ewer sits in an oval, flared foot. There is a metal base and a shoulder and two side straps which run up the ewer on either side. A short neck has a collar mid way and there is a short handle and a thin spout with a spherical nozzle at its end.
The form of the metal work is suggestive of more northern Indian work on ewers that date to the 17th century. The patina of the metal is suggestive of such a dating. Possibly, the ewer is from Goa and made for the colonial market.
The use of coco-de-mer shells for vessels has parallels with European sixteenth century usage. A handful of coco-de-mer nuts with silver-gilt mounts are known in several European museum collections. The nuts are of Seychelles or Maldives origin and the mounts are either Portuguese or German.
The belief in Europe at the time was that such nuts originated from the sea, hence their name – literally, 'coconut-of-the-sea'. The nuts were thought to have curative properties for illnesses such as colic, paralysis and gout and to counteract the effects of poison, with these benefits being passed to water stored in vessels made from the nuts. A Portuguese doctor based in Goa published an account in 1563 in which he commented that the nuts come in pairs and that no-one had ever seen a nut growing on a tree but that their source was the ocean. The nuts were comparatively scarce and were highly prized.
There is no significant damage to the body and no repairs. The edge of the foot has on one side some minor denting or fraying from use and age but this is of no great significance. The ewer was once fitted with a lid but as is often the case with earlier Indian ewers, the lid is now missing. Overall, the ewer is very unusual and quite sculptural.
References
Jordan-Gschwend, A, & K.J.P. Lowe (eds.), The Global City: On the Streets of Renaissance Lisbon, Paul Holberton Publishing, 2015.
Museu Nacional de Arte Antiga (Lisbon), Portugal and the World: In the 16th and 17th Centuries, 2009.
Zebrowski, M., Gold, Silver & Bronze from Mughal India, Alexandria Press, 1997.