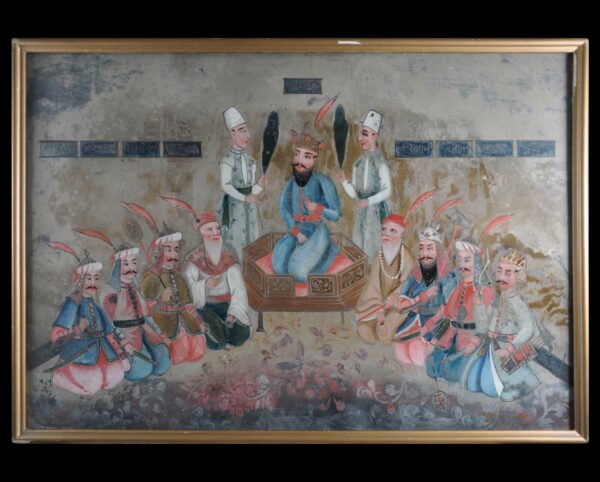 6097
Enquiry about object: 6097
Indian Reverse-Glass Painting of a Courtly Scene
Chinese artist, Northern India mid-19th century
width: 50.5cm, length: 35.3cm
Provenance
private collection, London, UK
This reverse-glass painting shows an emperor kneeling on a gilded throne being fanned by courtiers and giving audience to an assortment of nobles. The painting almost certainly was done by a local Chinese reverse-glass painting artist who operated in northern India in the mid-19th century.
The scene looks Persian but the styling of the weapons they hold suggests an Indian provenance. It is based on an episode in the Shahnameh and concerns King Kaikhushrau who is flanked by  courtiers/scholars and warriors. Notable among the group is Rustam who is usually depicted carrying  a bull's head mace. His son Sohrab is seated to the left of his father. The cartouches of script are in a corrupted version of Gujerati which is typical of local Chinese artists.
Such scenes were popular with Parsi collectors in India on account of the Persian connection and it is quite likely that this painting came from a Parsi household.
The Indian provenance is further attested to by a label affixed to the back for Chemould, a famous Indian art gallery founded in the 1960s in Bombay by a Parsi couple, which undoubtedly reframed the image.
The technique of reverse-glass, or églomisé, painting became popular in both India and Iran by the mid 19th century, possibly as a result of imports from Europe. (The technique had also been practised in China since the 18th century.) The paint was applied behind the glass in reverse order, with the highlights and details applied before the background colours. The practice flourished in India around the middle of the 19th century. Thereafter it fell from popularity as other media took its place. As mentioned, often the artists doing reverse glass painting in India actually were local ethnic Chinese of whom there were significant numbers in many larger Indian cities.
The painting is framed and is in fine condition.
References
Dallapiccola, A.L., Reverse Glass Painting in India, Niyogi Books, 2017.
pers. comm., Hoshang Khan, India.