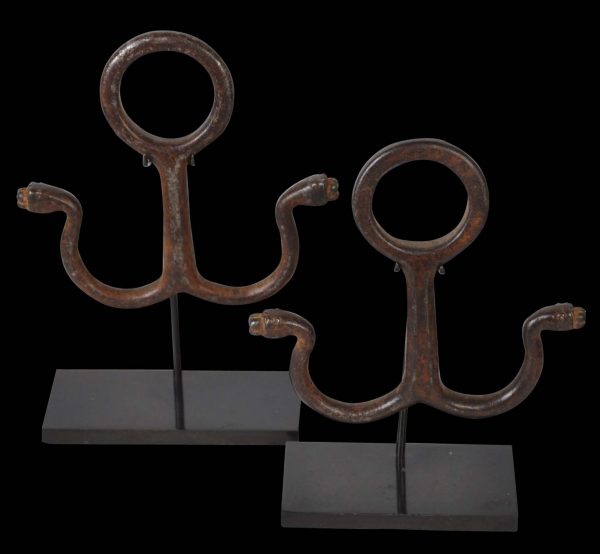 5771
Enquiry about object: 5771
Pair of Mughal Double-Headed Steel Belt Hooks
Northern India 17th century
heights (without stand): 9.8cm, heights with stands: 13.5cm & 15cm
This fine pair of tempered steel belt hooks are double-sided with each flange terminating in a small cast camel or horse's head. Each has been cast as a single piece.
They date from the Mughal period and to the 17th century.
They would have been worn from the waist (and possibly also could have been attached to the saddle of a horse) to allow daggers, turbans and other similar items to be suspended from them.
Each has a fine, dark patina.
The zoomorphic finials have some parallels with those on 17th century metal dishes or bowls based on the begging bowls of Muslim ascetics, which also were cast with zoomorphic finials.
Each has a quality, custom-made stand. The stands are of two different heights allowing for a more decorative presentation of this pair.
Both are like small sculptures and allude to the Mughal, Islamic aesthetic.
References
Zebrowski, M., Gold, Silver & Bronze from Mughal India, Alexandria Press, 1997.