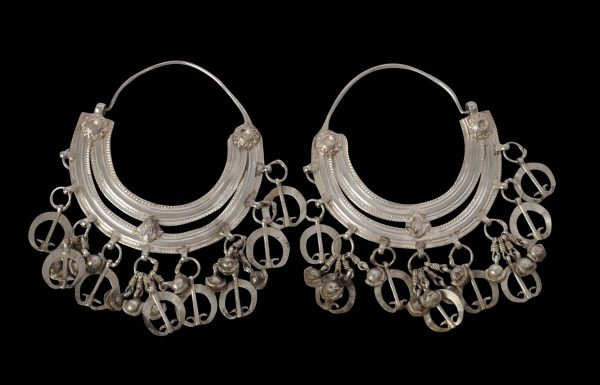 4972
Enquiry about object: 4972
Northern Indian Silver Dangling Wedding Earrings
Himachal Pradesh, Northern India early 20th century
length: 13cm, width: 9cm, combined weight: 106g
Provenance
Collection of (the late) Paul Walter; probably acquired in London.
This pair of over-sized silver bali earrings comprises large silver wire hoops with a lower border with impressed design from which numerous pendant balls, bells and spangles are suspended.
Ganguly (2007, p. 110) reports that such earrings were not worn for long periods – usually only for a short time during the wedding ceremony. On the death of an owner, bali earrings often were broken up and the silver parts were distributed to the owner's children.
The pair here are in fine condition.
References
Ganguly, W., Earrings: Ornamental Identity and Beauty in India, B.R. Publishing Corporation, 2007.