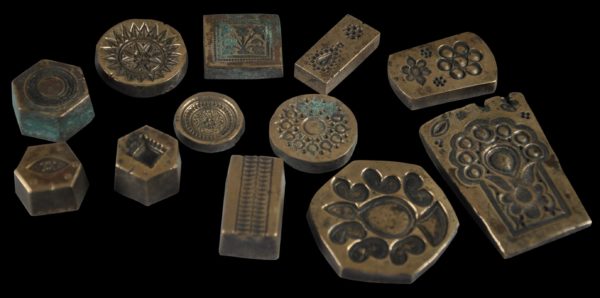 6088
Enquiry about object: 6088
Thirteen Indian Brass Jewellery Moulds
Northern India circa 19th century
combined weight: 612g
– scroll down to see further images –
This collection of thirteen moulds, cast in brass, were used to create repousse-like designs and to create wax forms for casting gold and silver.
Indian jewellery has a number of common designs and motifs and moulds were used to reproduce such designs.
Jeweller's moulds can be as attractive as the jewellery they were designed to produce.
Similar moulds are in the Victoria & Albert Museum and illustrated in Barnard (2008, p, 70) . Others moulds are illustrated in Aitken (2004, p. 48-49) and Hoek (2004, p. 146).
One mould has a devanagari inscription to the reverse.
References
Aitken, M.E., When Gold Blossoms: Indian Jewelry from the Susan L. Beningson Collection, Asia Society & Philip Wilson Publishers, 2004.
Barnard, N., Indian Jewellery, V&A Publishing, 2008.
Hoek, C., et al, Ethnic Jewellery: From Africa, Asia and Pacific Islands, Pepin Press, 2004.
Stronge, S., N. Smith & J.C. Harle, A Golden Treasury: Jewellery from the Indian Subcontinent, Victoria & Albert Museum/Mapin Publishing, 1988.