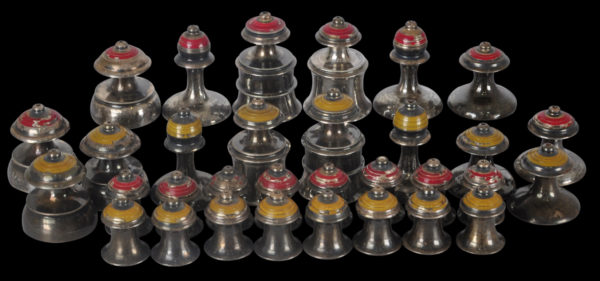 6442
Enquiry about object: 6442
North Indian or Mughal Silver & Enamel Chess Set
Northern India 19th century
2.2cm-4cm
Provenance
private collection, UK
This rare chess set is from Mughal or northern India. It is complete – there are 32 pieces and all are original. The styling is very much of Islamic northern India of the 19th century and indeed of the wider Islamic world – the pieces are not overtly differentiated from one another in the manner of European sets. This convention probably is on account of Islamic prohibitions on figurative art.
Each piece is made of sheet silver over a native red resin or lac core. Edges are decorated with very fine silver beading.
Each piece has been shaped to fit between the thumb and index finger in a pleasing manner.
The two opposing sides are denoted by yellow enamel or red enamel having been applied to either side.
The set has some resemblance to those used in the 19th century by the Malays of the Malay Peninsula. Elcum (1907) illustrates a set used by the Johor royal family for which the pieces are similarly not of particularly distinctive shape and have forms similar to those shown here. It is likely that Malay sets followed the Islamic Indian examples.
A chess piece of similar form attributed to Mughal India is illustrated in Freeman Fahid (2018, p. 209).
The set here is complete as mentioned. Each piece is without dents. The silver is in its unpolished, tarnished state. There are losses to the red and yellow enamels here and there although the 'side' to which each piece belongs remains clear and distinctive. Overall, this is a very attractive set.
References
Elcum, T.B., 'Malay chess', Journal of the Straits Branch of the Royal Asiatic Society, December 1907.
Freeman Fahid, D., Chess and Other Games Pieces from Islamic Lands, Thames & Hudson, 2018.
Pal, P., Art from the Indian Subcontinent: Asian Art at the Norton Simon Museum, Yale University Press, 2003.
Topsfield, A., (ed.), The Art of Play: Board and Card Games of India, Marg Publications, 2006.