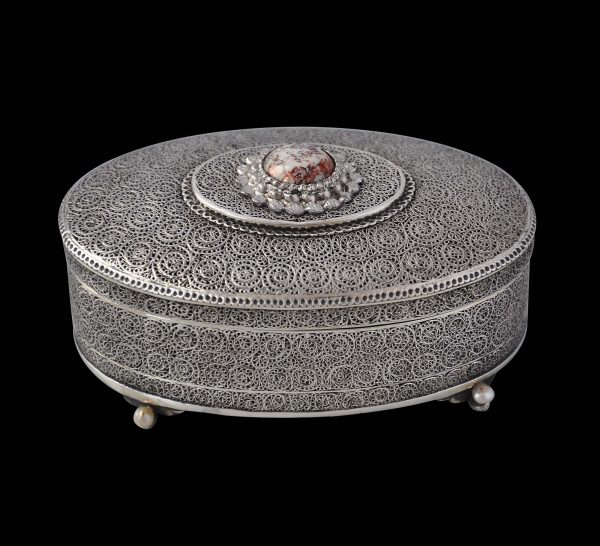 1715
Enquiry about object: 1715
Exceptionally Fine Indian Deccan Parcel-Gilt Silver Filigree Pandan
Deccan, India 18th century
height: 5cm, length: 9.6cm, weight: 77g
This exceptional oval, lidded box incorporates particularly fine silver filigree work. The tightly rolled swirls are extraordinary for their precision and fineness. The box was for use to hold betel nut or paan, and as such served as a betel box or pandan. The cover and sides are entirely of fine filigree. The underside of the base is of sheet silver.
The cover or lid is rounded and slightly domed rising to a flattened oblong top section. It has a fine, beaded or crenulated edge and it fits tightly to the base. The lid is surmounted by a flower-form central boss inset with a moss agate cabochon.
The base stands on four scalloped feet, each is decorated with a single natural pearl secured with a silver pin.
The interior retains much of its original gilding (gold plating). The feet and ribs of the exterior retains traces of their original gilding.
The underside of the base has a later engraved name: 'Shena'.
The way in which the strands of filigree have been arrayed (described as scrolls of wire 'commas') has much in common with that on an octagonal chest attributed to early eighteenth century India which is in the Hermitage Museum and mentioned in a Winter Palace inventory of 1789. It is illustrated in Piotrovsky et al, 2006, p. 46. Another example of similar filigree work can be found on a rosewater sprinkler illustrated in Galloway (2009, p. 60).
A pandan of similar work and form that is part of a set in London's Victoria & Albert Museum is illustrated in Terlinden (1987, p. 137)
This item is in fine condition. There are almost no losses to the filigree and no repairs.
References
Galloway, F., Global India, 2009.
Piotrovsky, M. et al, Silver: Wonders from the East – Filigree of the Tsars, Lund Humphries/Hermitage Amsterdam, 2006.
Terlinden, C., Mughal Silver Magnificence, Antalga, 1987.