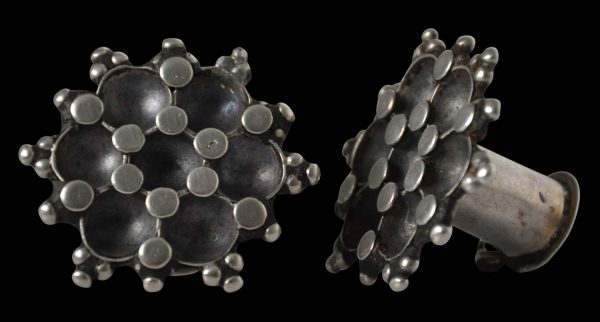 4979
Enquiry about object: 4979
Pair of Indian Silver Flower-Form Ear Plugs
India, probably Delhi 19th century
diameters: 3cm, combined weight: 13.49g
Provenance
Collection of the late Paul Walter, New York, probably acquired in London.
The form of this unusual pair of ear plugs appears to be based on the jasmine flower. Each comprises seven small half spheres joined with and further decorated by applied granulation work.
Loops along the tubular post would have allowed a chain go over the ear and back to the post behind the ear lobe.
The pair have a wonderful softness and patina from age and handling.
Ear plugs of related form are illustrated in Untracht (1997, p. 366).
References
Geoffroy-Schneiter, B., Asian Jewellery: Ethnic Rings, Bracelets, Necklaces, Earrings, Belts, Head Ornaments, Skira, 2011.
Untracht, O., Traditional Jewelry of India, Thames & Hudson, 1997.