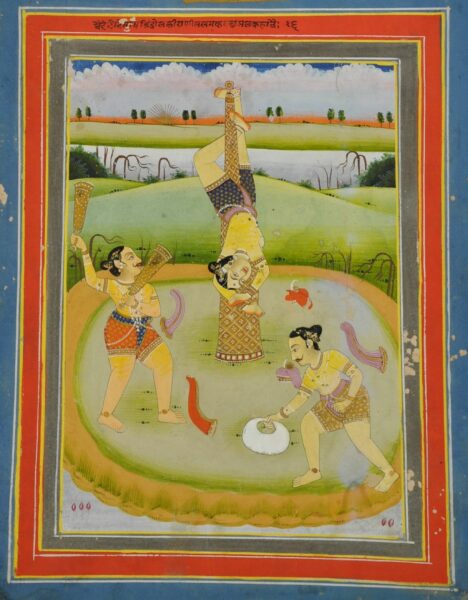 8813
Enquiry about object: 8813
Indian Jaipur School Painting of Exercising Wrestlers
Bikaner, India circa 1760
width: 19cm, length: 25.2cm
This fine, whimsical painting shows three traditional wrestlers taking their exercises in an outdoor setting. It is in multiple colours and gold highlights.
The style of the painting is in the Jaipur or Rajput school, which focussed not only on rulers and their families but also mirrored the lifestyles of the upper echelons on Indian Rajputana society.
The central figure is upside down on a pole, the wrestler on the left is exercising with a pair of exercise clubs (mugdals), and that on the right holds a round stone weight.
Mugdals were used by Indian men in exercise arenas or gyms (akharas) to exercise the arms, shoulders and wrists – important for sword wielding. Both were used together – one for each arm. They were held at the slim end and swung simultaneously about the body.
A line of Devanagari text is in the red border at the top of the painting, and five further lines of text in a cartouche at the top in the outer blue border.
The painting does have some age-related deterioration, and some probably areas of early restoration, but remains bright and stable. There are several tiny holes too. Like most such miniatures it would have been part of a series, in book form, and most probably was a leaf from a booklet. The reverse has inscription in fountain pen, probably the comments of an early English collector. It is not currently framed.
References
Hannam, E., Eastern Encounters: Four Centuries of Paintings and Manuscripts from the Indian Subcontinent, Royal Collection Trust, 2018.
Topsfield, A., Court Painting at Udaipur: Art under the Patronage of the Maharanas of Mewar, Ebehard Fischer, 2001.