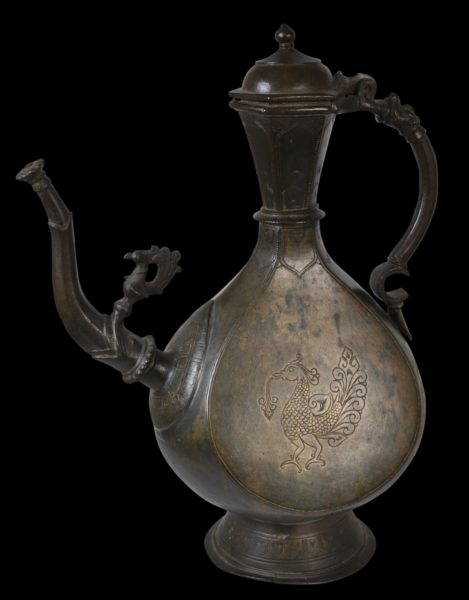 6102
Enquiry about object: 6102
Unusual South Indian Inscribed Bronze Ewer
South India, probably Andhra Pradesh 17th-18th century
height: 34.3cm, width: 25cm, depth: 14.5cm, weight: 2,623g
This very unusual hybrid bronze ewer (aftaba) is northern Indian and Islamic or Mughal in form, but has South Indian and Hindu embellishments. It is of cast and engraved bronze.
It is in fine condition for its age, has a warm, dark patina and somewhat unusually for a ewer of this type and age, retains its original hinged lid.
It stands on a flared, oval foot which rises to a tear-shaped body with flattened, tapering sides, and rounded ends. The six-sided neck flares slightly to the opening on which sits the original, architectural-form lid that is surmounted by a bud-like finial. The handle is of 'S' shaped form, the top of which is cast as a snout-nosed makara.
The spout of tapering form emerges from the cast head of a makara, and also has a gentle 'S' shape which leads to a floral-form head.  The top of the makara's nose is decorated with a cast peacock or sacred swan (hamsa). The spout rises from a tear-shaped boss on the side of the ewer and this has been engraved with petal motifs.
The neck and foot are engraved with lotus petal motifs.
The body is engraved on both sides with fine representations of hamsas or sacred swans, the celestial vehicle or vahana of both Brahma and Saraswati.
It is this representation of hamsas both engraved on the body and cast onto the spout that mark this ewer out as a south Indian version based on a north Indian prototype.  Zebrowski (1997, p. 159) illustrates such a ewer attributed to 17th or 18th century Tanjore in India's south.
The back of the ewer, just beneath the handle, has been engraved with a line of Telugu script, probably identifying the owner. (Telugu is a Dravidian language used mostly in the southern Indian states of Andhra Pradesh, Telangana and Yanam.)
Typical Islamic ewers comprised a central chamber to which a spout, foot, handle and neck were attached. They permitted water to flow – Koranic injunctions deemed flowing water to be 'clean'. Ewers were introduced to India by Muslim invaders during the late thirteenth and early fourteenth centuries. Thereafter their designs were Indianised – the ewers became more curvaceous and were decorated with lush plant and floral motifs.
In India, local Muslims used such vessels for handwashing. They became a practical tool of hospitality, being used to welcome visitors by pouring scented water over the hands and feet and into a basin. In the south, they might also have been used this way, but also might of taken on more religious, ritual purposes, being used to pour lustral water over images of deities.
The vessel here has a fine, chocolatey patina. There are some old solder marks to the lower rear of the ewer. These might be repairs made to casting faults at the time of manufacture. Similarly, there is a minor casting line fault to the foot and a very minor, short, old crack to the rim of the foot. But these are all relatively inconsequential. The ewer is stable, sits solidly and it is very unusual.
References
Dye, J.M., The Arts of India: Virginia Museum of Fine Arts, Philip Wilson Publishers, 2001.
Stronge, S., Bidri Ware: Inlaid Metalwork from India, Victoria & Albert Museum, 1985.
Zebrowski, M., Gold, Silver & Bronze from Mughal India, Alexandria Press, 1997.