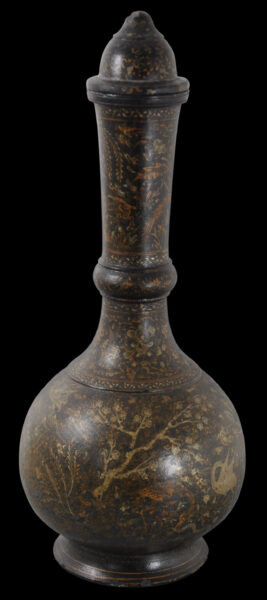 9102
Enquiry about object: 9102
Rare, Mughal Gilt-Decorated Steatite Flask (Surahi)
Northern India 17th-18th Century
height: approximately 31.8cm, diameter: approximately 13.5cm, weight: 1,341g
Provenance
private collection, England.
This rare, elegant flask has been carved from steatite, a soft talc-schist rock, and decorated with gold painted animals such as a long-horned antelope amid luxuriant, naturalistic shrubbery and landscape.
It is only one of two examples that we know of to have survived. The other, possibly the pair to the example here, comprised lot 271 in Bonhams sale, 'Islamic and Indian Art' sale, October 4, 2011.
The vessel is of globular form and stands on a flared foot. The baluster-form, tapering neck rises to a gently flared mouth. A domed cover rests inside the mouth.
The form of this flask was popular in 16th-18th century Mughal India. Comparative examples were fashioned from brass, silver, gold and jade. The use of steatite is highly unusual.
The decoration – both the motifs and the use of gold – seems heavily influenced by Persian illuminations in manuscripts which were copied in Kashmir and the rest of northern India.
The flask likely has some minor restorations to the base. The finial to the cover also is worn.
References
Zebrowski, M., Gold, Silver & Bronze from Mughal India, Alexandria Press, 1997.