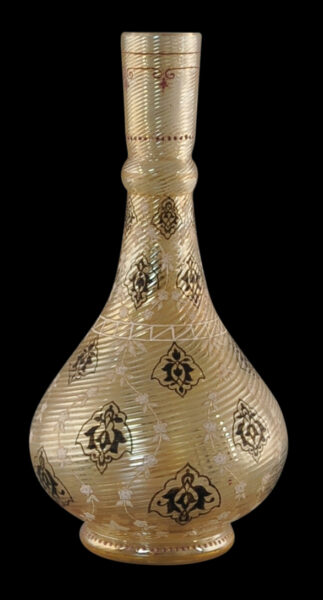 7019
Enquiry about object: 7019
Glass Hookah Base for the Indian or Ottoman Market
Europe, probably France or Bohemia/Czech circa 1860
height: 25cm, width: 13cm, weight: 571g
This glass hookah vase or base  almost certainly was made in Europe but for export either to the Islamic markets in India or to the Ottoman market.
It is a superior example to many on account of the fine fluting that spirals down from the top. It sits on a low ring foot, has a bulbous body and a thin neck with a protruding collar. It has been further decorated with gold and black and white enamel with split palmettes, garlands of flowers and other motifs.
It was blown within a mould and has a pontil or punt mark to the base.
There are no cracks or repairs. There is a tiny chip to the rim, consistent with use – this is where the rest of the smoking apparatus would have been attached.
References
Carboni, S., & Whitehouse, D., Glass of the Sultans, The Metropolitan Museum of Art, New York, 2001.