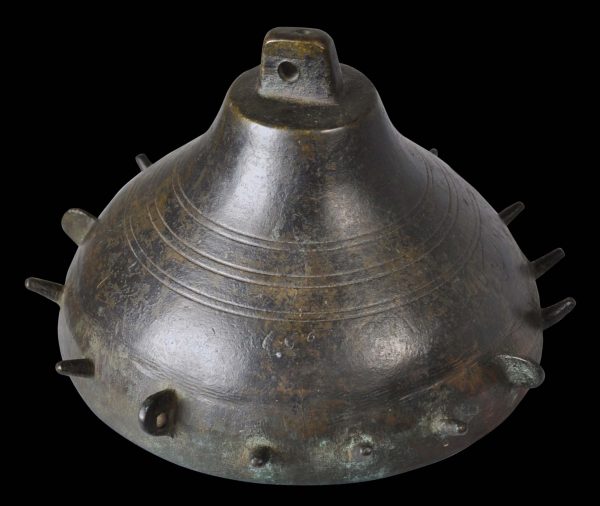 5242
Enquiry about object: 5242
North Indian or Persian Cast & Inscribed Bronze Hawking Drum
Persia or Northern India 17th-18th century
diameter: 17.5cm, height: 12cm
This hawking drum of pleasing, squat domed form with a square lug finial, is etched with decorative concentric bands around its mid-section. It is also engraved with an inscription in Arabic or Farsi which runs around half of the outside of the drum. Fifteen spikes on to which the leather of the drum membrane would have been attached radiate at equi-distance from near the base.
Such drums were designed to hold in one hand while the other hand gently beat it, to call in a hunting hawk that was in flight.
Hawking was a popular past-time in the Middle East, Persia and also among the Mughals of Northern India. Many Mughal miniatures survive which show Mughgal falconers and some show them astride horses with small hawking drums of the dimensions here attached to the side of their horse.
The example here has a deep, dark patina and obvious age. There are no losses or restorations.
References
Crill, R., & K. Jariwala, The Indian Portrait 1560-1860, National Portrait Gallery, 2010.