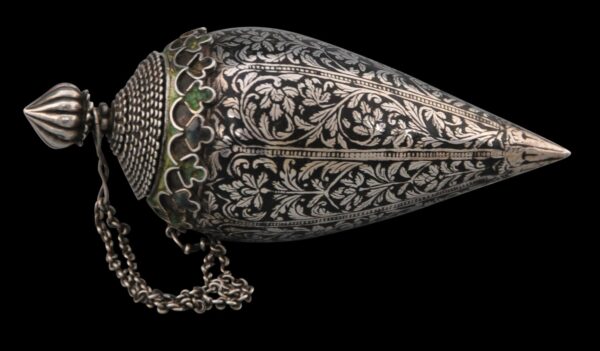 8727
Enquiry about object: 8727
Lucknow Niello & Enamelled Perfume Flask
Lucknow, India circa 1780
length: 8.5cm, width: approximately 3.5cm, weight: 28g
This rare silver flask would have held perfume. It is of silver with the body decorated in black enamelled niello with bands of Mughal-esque floral bands. The neck of the flask is decorated with a clover-like border of repeated leaf motifs in silver wire and decorated with green cloisonné enamel. The domed cover hides a stopper. The cover has been delicately worked with a pine-cone pattern suggestive of filigree but in fact is chased. This rises to a architectural-like dome finial. The cover is attached to the base by means of a fine, double-strand silver chain.
Lucknow Mughal-esque floral work with its distinctively lush rendering of flowers and foliage in tight scrollwork is a feature on many 18th century silver items produced in Lucknow. Examples of motifs related to those seen on the flask here are to be found in Markel 2010, pp. 202-212). The use of enamels is another feature of Lucknow silverwork.
Probably the perfume flask was made for a member of the court.
The ruling family of Oudh established themselves as independent hereditary rulers of Lucknow during the collapse of Mughal power in the early eighteenth century.
The strategic position of their capital and that of Oudh province prompted the British to use them as a buffer state between their own territories in the east, and the west. However the British used the inevitable intrigue and jockeying in the Oudh court to exert greater and greater influence. By the turn of the nineteenth century they managed to virtually exercise a veto right on the succession. The Nawabs devoted much of their time trying to project the outward signs of their sovereignty and regality, rather than exerting real power. Accordingly, Lucknow became an important centre for court arts.
The perfume flask here is in very good condition. There is a tiny loss to one of the cloisonnes near the neck of the vessel but this is barely detectable.
References
Markel, S. et al, India's Fabled City: The Art of Courtly Lucknow, LACMA/DelMonico Books, 2010.