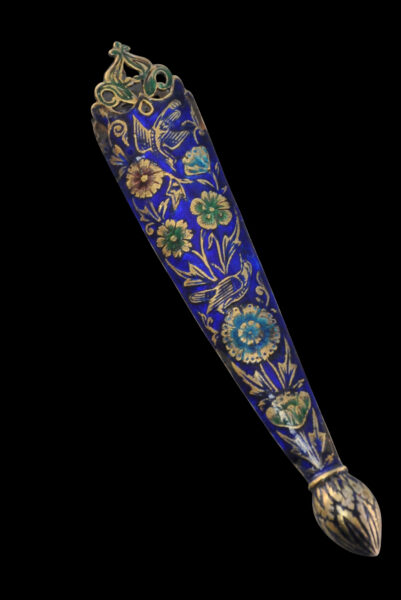 6986
Enquiry about object: 6986
Enamelled & Gilded Silver Scabbard End-Fitting or Chape
India, probably Lucknow 18th century
length: 11cm, width: 2.2cm, weight: 33g
This fine, pierced, enamelled and gilded (gold-plated) silver chape would have been fitted to the end of a scabbard of a particularly fine dagger. It tapers from a pierced, crenulated upper section to a finial shaped as a leafy bud. One edge is flattened with a rib that has been enamelled in green.
The chape is decorated with bird and flower motifs in green, blue and green.
See Sharma & Varadarajan (2004, p. 60) and Keene (2001, p. 78) for related enamelled chapes, and Markel (2010, p. 204) for silverware with related enamel work from Lucknow.
There are no repairs, dents or splits. There are some minor losses to the enamel.
References
Keene, M., Treasury of the World: Jewelled Arts of India in the Age of the Mughals – The Al-Sabah Collection Kuwait National Museum, Thames & Hudson, 2001.
Markel, S. et al, India's Fabled City: The Art of Courtly Lucknow, LACMA/DelMonico Books, 2010.
Sharma, R.D. & M. Varadarajan, Handcrafted Indian Enamel Jewellery, Roli Books, 2004.