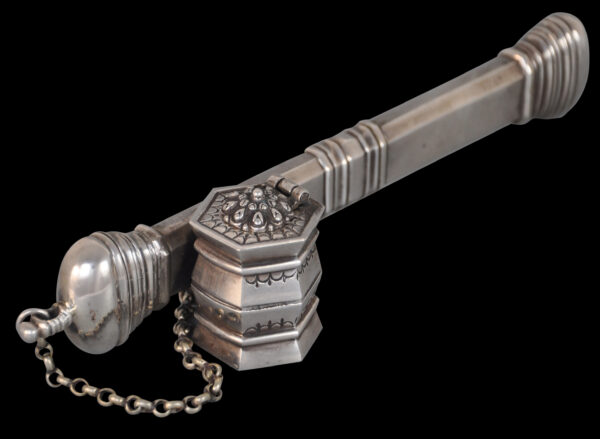 9071
Enquiry about object: 9071
Mughal or Deccan Scribe's Silver Pen Box (Kalamdan)
Mughal, Northern India or Deccan 18th century
length: 21.2cm, weight: 225g
This pen box or kalamdan is beautiful for its refinement and simplicity. It is of heavy, solid, silver. Expense was not spared in its manufacture – it is heavy in the hand and obviously intended for a wealthy and probably aristocratic client. Most probably it was made in Mughal northern India. It might also have been made in the Deccan.
It comprises a long chamber in which writing reeds or quills were stored. The chamber is rounded at both ends, one of which is a hinged lid, and has a ribbed mid-section. The chamber is joined to a capstan-shaped inkwell which also has a hinged lid. A silver chain joins the two.
The inkwell is embellished with some minor engraving, including to its underside, but otherwise, the main registers on the item have been left plain.
Writing boxes in this form in the Islamic world most commonly came from Ottoman Turkey and its dominions. Mughal Indian boxes are much rarer.
Several elements identify this pen box as Indian rather than say, Ottoman. The decorative elements on the lid of the inkwell are noticeably Indian. The silver chain that links the pen chamber to the inkwell is of obvious Indian construction. Also, Ottoman examples often are stamped with silver assay marks (usually incorporating a tughra – the emblem of the reigning Ottoman sultan). There are no such marks on this item. The thickness of the silver used also is more typically Indian. Ottoman silverwork tends to be more spare in the use of silver.
The example here is a particularly elegant item of a type rarely seen from India.
References
Terlinden, C., Mughal Silver Magnificence, Antalga, 1987.