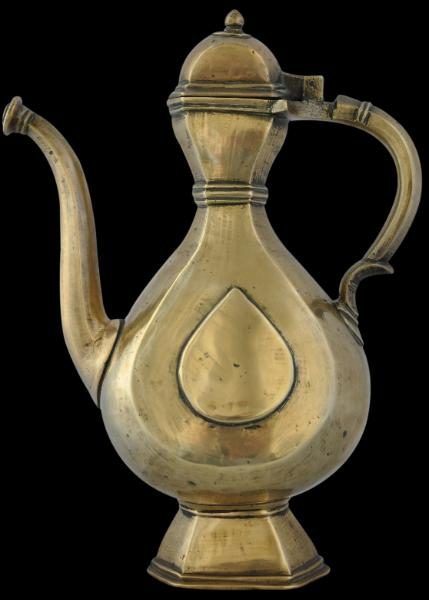 1569
Enquiry about object: 1569
Mughal Brass Ewer (Aftaba)
North India 18th century
height: 36.2cm, width: 26.2cm, weight: 2,557g
This tall and heavy Mughal brass ewer (aftaba) has a tall tapering, hexagonal foot; a tear-shaped tapering body; a squared mouth and lid; a curved handle; and a spout with a slight 'S' shape. The body is unencumbered by motifs or unnecessary design – its simplicity and clean lines permit it a quiet beauty.
No metal was spared in its production – the ewer is noticeably heavy-in-the-hand.
It has a soft, golden colour, and contours softened by age and use.
Ewers of this type have their origins in Persia and the Middle East. Typical Islamic ewers comprised a central chamber to which a spout, foot, handle and neck were attached. They permitted water to flow – Koranic injunctions deemed flowing water to be 'clean'. Ewers were introduced to India by Muslim invaders during the late thirteenth and early fourteenth centuries. Thereafter their designs were Indianised – the ewers became more curvaceous and many were decorated with lush plant and floral motifs.
In India, local Muslims used such vessels for handwashing. They became a practical tool of hospitality, being used to welcome visitors by pouring scented water over the hands and feet and into a basin, and took on a great variety of shapes and types whilst adhering to the basic ewer form. Sometimes they were filled not just with water but delicately-scented rosewater.
This example is in excellent condition. There are no repairs, splits or dents. The lid is original – these are missing or replaced in many extant piece. Overall, this is a fine, decorative object with a strong presence.
References
Zebrowski, M., Gold, Silver & Bronze from Mughal India, Alexandria Press, 1997.