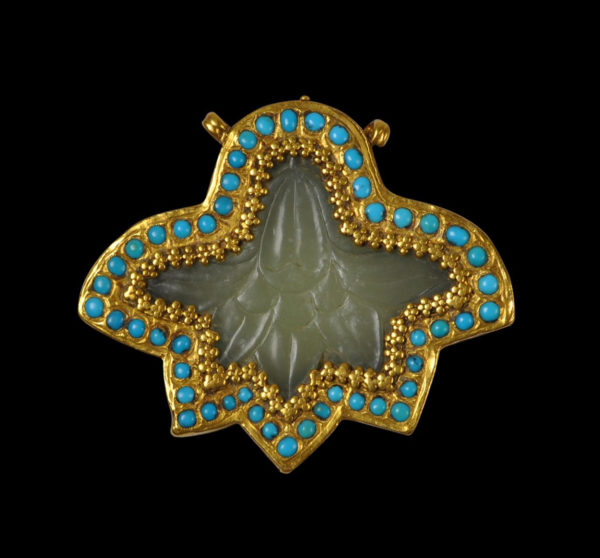 6143
Enquiry about object: 6143
Carved Mughal Jade with Gold & Turquoise Mounts
Delhi, Northern India circa 1620 (Jade) & circa 1850 (Mounts)
width: 6.3cm, height: 5.4cm, thickness: 0.3cm, weight: 31.64g
This spectacular pendant comprises an early 17th century carved pale green nephrite jade plaque carved in the Deccan or northern India, that was mounted in high-carat gold in Delhi in the mid-19th century. The gold has been further embellished with applied granulation work and inset with turquoise cabochons.
It is possible that the jade plaque was a Mughal dagger sash-cord ornament
It is likely that the jade was so highly regarded in the 19th century that its owner – perhaps a family – decided to have it further embellished with gold and turquoise. The use of bright blue turquoise cabochons became fashionable in India from around 1800 onwards. Examples of north Indian jewellery with similar turquoise cabochons can be seen in Stronge, Smith & Harle (1988, p. 57 & 78) and van Gelder (2011, p. 164, 225 & 259).
The jade is in floral form and has been carved on one side with a typically Mughal stylised tulip. The reverse of the of the jade is plain. See Keene (2001, p. 118) for a 17th century jade dish with related floral carving.
Two gold hoops on either side of the pendant allow it to be suspended.
The back of the pendant shows the plain reverse of the jade with the edges covered in thick, folded sheet gold.
The gold has marvellous wear and patina.
The pedant is in excellent condition and is very wearable.
References
van Gelder, B., Traditional Indian Jewellery: Beautiful People, ACC Art Books, 2018.
Keene, M., Treasury of the World: Jewelled Arts of India in the Age of the Mughals – The Al-Sabah Collection Kuwait National Museum, Thames & Hudson, 2001.
Stronge, S., N. Smith & J.C. Harle, A Golden Treasury: Jewellery from the Indian Subcontinent, Victoria & Albert Museum/Mapin Publishing, 1988.