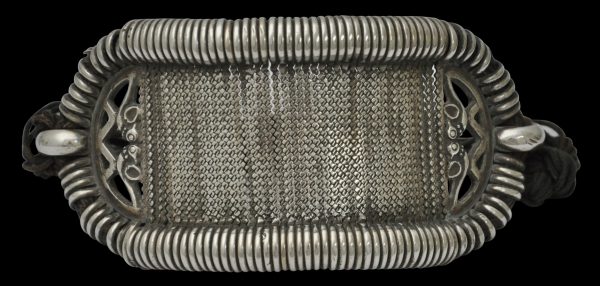 4795
Enquiry about object: 4795
Flexible, Pierced, Silver Armlet (Bazuband)
Rajasthan, India 19th-early 20th century
length of silver band: 16cm, width: 7.5cm, weight: 256g
Provenance
private UK collection.
– scroll down to see further images –
Flexible arm bands (today these can be worn as bracelets) in this style come from Rajasthan. Called bahutta by local Muslims, they tended to be worn on the upper arm just above the elbow by women. The silver band was worn on the outer part of the arm and kept in place by a woollen or cotton tie tied around the rest of the arm.
This example is relatively large and heavy and comprises dozens of interlocking silver bands kept in place within a thick but flexible cord frame. The ends are decorated with open-work and small pairs of addorsed parrots.
Similar examples are illustrated in Utracht (1997, p. 251) and van Cutsem (2002, p. 203).
The example here is fine condition with obvious age and good patina.
References
van Cutsem, A., A World of Bracelets: Africa, Asia, Oceania, America, Skira, 2002.
Utracht, O., Traditional Jewelry of India, Thames & Hudson, 1997.