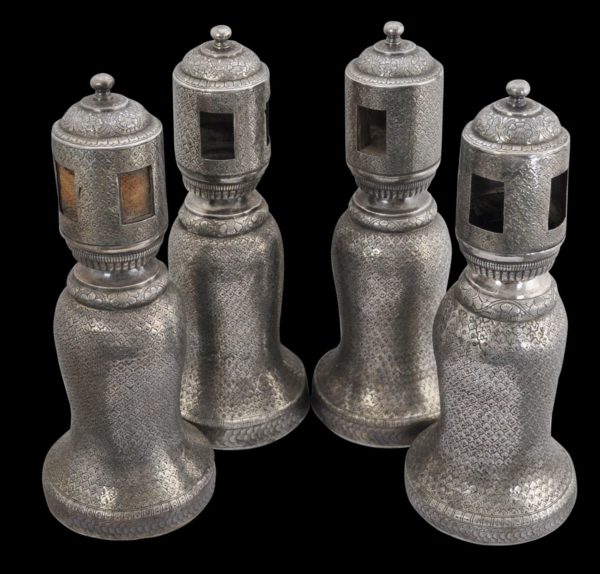 5922
Enquiry about object: 5922
Four Engraved Engraved Silver-Clad Bedstead Charpoy Legs
Northern India 19th century
heights: 32.5cm diameters at base: 13cm
A  charpoy, also known as a charpai, charpaya, khat or manji, in its simplest form is traditional Indian bed. It is low, and comprises four short, turned legs, and four horizontal members between which cotton ropes would be suspended. Day beds and even thrones (without a back and on which the sitter would sit cross-legged) came to be based on the charpoy.
The Welsh travel writer Fanny Parks (as cited in Jaffer, 2001, p. 109) wrote in 1850 that it was commonplace in India for 'people of rank' to have a charpoy 'covered with thick plates of gold or silver, which is handsomely embossed with flowers'.
The four legs here are for a more luxurious charpoy or perhaps a low throne chair or stool.
Each rises from a flared base, has a baluster form, and terminates with a cylindrical head topped by a domed cover and a solid finial.
Each is covered in sheet silver that has been engraved with a combination of peacock feather motifs, flowers, and floral scrolls.
The heads of each are cut with rectangular apertures into which the horizontal members would be inserted.
The bottom of each base is covered with sheet copper or brass attached with brass or copper pins.
Each is heavy for its size, The bodies of each are filled with lac or tree resin. The tops of several still retain remnants of the timber members that had been slotted into them.
The four legs are in fine condition. They could be used once more for their original intended purpose, or given their architectural quality, they have a sculptural and decorative quality in their own right.
References
Aditi, Festival of India, The Handicrafts and Handlooms Exports Corporation of India Ltd, 1982.
Jaffer, A., Furniture from British India and Ceylon: A Catalogue of the Collections in the Victoria and Albert Museum and the Peabody Essex Museum, Timeless Books, 2001.
Terlinden, C., Mughal Silver Magnificence, Antalga, 1987.