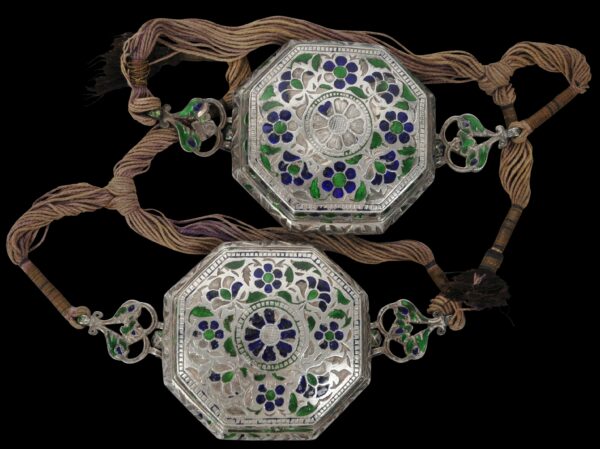 8793
Enquiry about object: 8793
Pair of Lucknow Enamelled Silver Bazuband Boxes
Lucknow, India 18th century
width of individual boxes: approximately 6.1cm, length (including loops): approximately 11.8cm, depth: 2.2cm, combined weight (including cords): 159g
This pair of enamelled silver octagonal amulet boxes (bazubands) designed to be worn on each of the upper arms is from 18th century Lucknow. Inside would have been kept small parchments with protective Islamic script.
Each is decorated with flower and leaf motifs in blue and green enamel (there are obvious losses to the enamel). The schema of the motifs and the colours are suggestive of Lucknow provenance.
For similar enamel work, see a silver tray and scent bottle set, dating to 18th century Lucknow in Markel (2010, p. 212).
Each box is enclosed and has a hinged back (some looseness to the hinges). There are fine, hinged enamelled silver elaborate loops on each side to allow the boxes to be attached to cords which can then be tied around the arms. In each case here, the original silk cord ties are still present. The cords retain traces of natural murex purple dye – purple being a colour associated with royalty and high status.
Traditionally, such devices were worn by Islamic princes as they went into battle.
The examples here have significant enamel loss and yet are rare as a pair – usually, bazubands are seen today individually and almost never as true pairs, as is the case here.
References
Markel, S. et al, India's Fabled City: The Art of Courtly Lucknow, LACMA/DelMonico Books, 2010.