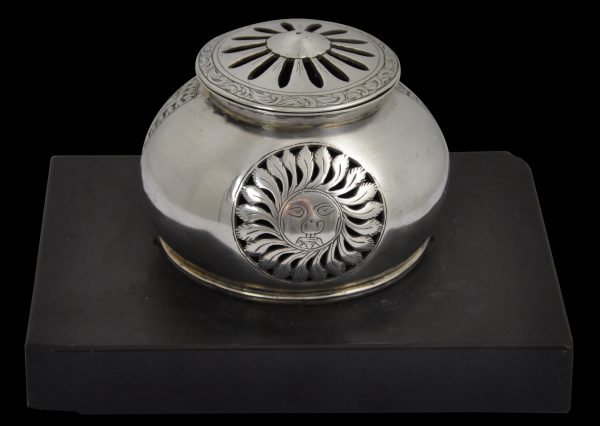 3663
Enquiry about object: 3663
Rare, Mughal Indian Gilded Chased & Engraved Silver Opium Poppy Pod-Shaped Chilam Cover
Rajasthan or Mughal, India 18th century
diameter: 8cm, height: 6.4cm, dimensions of marble stand: 14cm x 11cm x 2cm
This silver hookah bowl cover (chilam) of squat globular form is in the shape of a poppy seed pod head. It is the only Indian chilam in this form of which we are aware. Of solid silver with remnants of gilding (gold plating), it is pierced and engraved with Mughal-inspired flowers on one side and a pierced solar face motif on the other – this motif is associated with the Mewar royal house of Rajasthan. The cover is slightly domed and pieced with pierces slats that emulate the top of a poppy pod head. The cover also has an outer engraved border of scrolling foliage work.
The chilam has an internal silver frame which is likely to be associated with keeping hot coals in place. It also has two attached threads soldered to the base rim and these are bolted through a rectangular marble made which appears to have been added in England or Europe in the 19th century for display purposes.
See lot 247, in Christie's, 'Arts of the Islamic and Indian Worlds' London, April 7, 2011, for an enamelled chilam ascribed to Lucknow.
The Mewar rulers ruled over Udaipur State, also known as the Mewar Kingdom which was in present-day south central Rajasthan. The family were Suryavanshi Rajputs – they claimed descent from the Hindu sun god Surya. The solar face symbol such as that shown on the chilam here was frequently seen in the palaces of the Mewar ruling family. See Jackson & Jaffer (2009, p. 14) for an example of a silver-clad howdah or elephant riding platform that is decorated with a large Mewar-like solar emblem.
The chilam is in excellent condition. There are some chips to the corners of the marble display base.
The last image shows a Mewar royal procession – note the use of solar symbols.
References
Jackson, A., & A. Jaffer, Maharaja: The Splendour of India's Royal Courts, V&A Publishing, 2009.