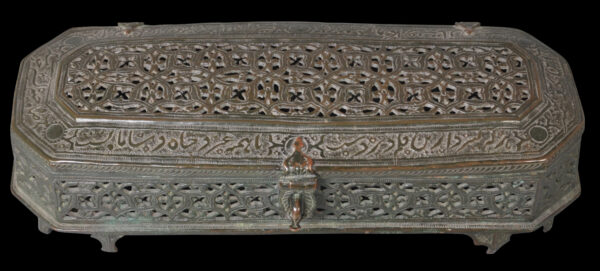 6737
Enquiry about object: 6737
Kashmiri Pierced, Chiselled Bronze Pen Case
Kashmir, India 18th century
length: 26.5cm, depth: 9.8cm, height: 7.5cm, weight: 879g
This large, pierced and engraved pen box is of bronze and is from India, either northern India – probably Kashmir – or from the Deccan. It is rectangular but with eight sides.
It stands on four feet and has a hinged, raised lid that closes with a latch.  All sides and the central cartouche on the lid are pierced with scrolling lattice work.
The lid has a border of Persian in nastaliq script. The lines most likely are from a poem by Omar Khayyam, the 11th-12 century Persian poet, mathematician, astronomer and philosopher. The maker's inclusion of lines from such a famous source no doubt was intended to elevate the status of the object.
The interior is divided into compartments for inkpots, pens and so on.
The box has a good, chocolate-brown patina.
The box is in very fine condition.
References
Najat Haidar, N., & M. Sardar, Sultans of Deccan India 1500-1700: Opulence and Fantasy, Metropolitan Museum of Art, 2015.
Pal, P., The Arts of Kashmir, Asia Society, 2007.