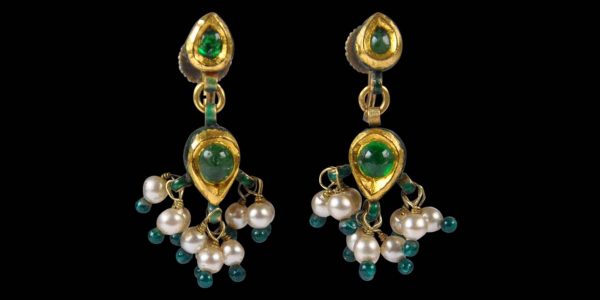 5472
Enquiry about object: 5472
Indian Enamelled Gold Earrings with Emeralds & Pearls
India 19th century
length: 2.7cm, combined wight: 4.98g
This elegant and wearable pair of gold Indian earrings are enamelled on their backs with Mughal-inspired floral motifs, and are set with emeralds. The sides are decorated with green enamel in sympathy with the green of the emeralds. Each has small baroque pearls suspended by gold wire and fixed with small green-glass terminals.
The earrings have screw mechanisms for non-pierced ears.
The earrings are likely to date to the 19th century and are from north India.
The earrings are stable, wearable and without losses or repairs.
References
Untracht, O., Traditional Jewelry of India, Thames & Hudson, 1997.