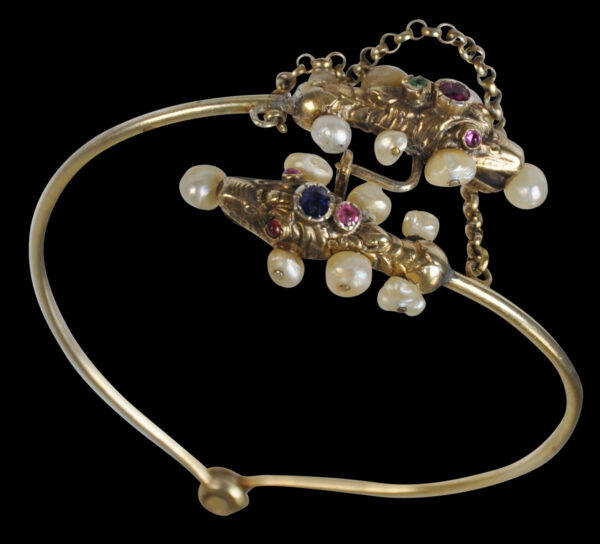 8683
Enquiry about object: 8683
Algerian Gold Serpent-Head Bracelet set with Pearls, Rubies & other Stones
Algeria 19th century
interior diameter: 6.3cm, weight: 12g
This rare bracelet – possibly a unique commission – has a fine gilded silver, hinged wire hoop, and terminals in gold formed as serpent heads. These are embellished with multiple Baroque peals and rubies, sapphires and emeralds – some faceted and some cabochons.
The two heads are linked by a catch between them, and a gold safety chain.
The serpent heads have been modelled with gaping mouths. The undersides of the heads and necks are suitably chased to emulate scales.
The manner in which the pearls have been attached is precisely that which can be seen in Algerian fibulas when pearls are present.
The bracelet has tiny Algerian assay marks to the wire hoop.
Eudel (1906, p. 116) includes line drawings of large hooped ear ornaments with similar serpent heads.
The bracelet here is wearable though small, and is a fine collector's piece of scarce 19th century North African gold jewellery.
References
Eudel, P., Dictionnaire des Bijoux de l'Afrique du Nord: Maroc, Algerie, Tunisie, Tripolitaine, Ernest Leroux, Paris, 1906.