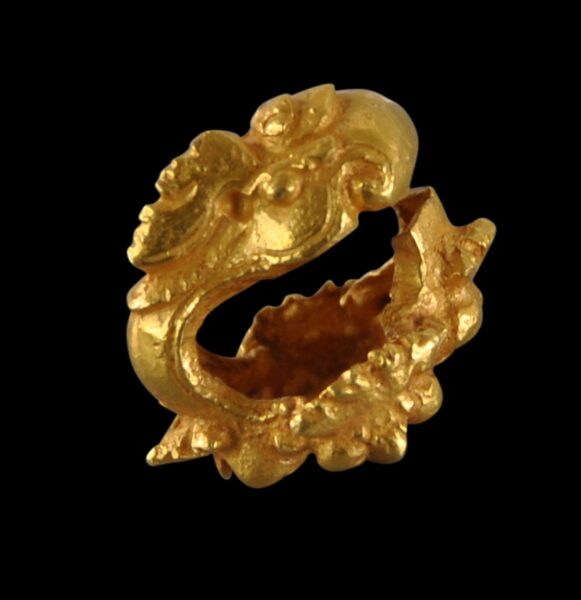 8637
Enquiry about object: 8637
East Java Gold Ear Pendant
East Java, Indonesia 13th century
width: 2cm, weight: 4g
Provenance
Estate Collection of Tom White MBE, a former UK diplomat who served in Southeast Asia in the 1960s & 1970s.
This solid cast gold pendant dates to around the 13th century and originates in East Java. It has been cast with a dynamic shape that almost suggests flames.
It is heavy for its size. It has a small opening to allow it to be worn on an elongated ear lobe. The inner side is smooth so as not to irritate the ear, and the outer side is decorated at one end with a floral, four-petalled finial that  most probably is also a stylised cakra. A stylised makara-like head is at the other end.
Such ear ornaments were worn in both ears. Usually the ornaments did not match and so were not actually worn in matched pairs.
Such an ear ornament was cast using the lost wax process.
The example here is in fine condition.
References
Bremer, S., Goud der Goden: Uitt het oude Java, Wereldmuseum Rotterdam Publishers, 2014.
Lunsingh Scheurleer, P., Gold from Java/Goud uit Java, Gemeentemuseum Den Haag/W Books, 2012.
Miksic, J., Old Javanese Gold, Ideation, 1990.
Polak, J., Ancient Indonesian Gold of the Central and Eastern Javanese Periods 750-1550: A Selection, C. Zwartenkot Art Books, 2022.