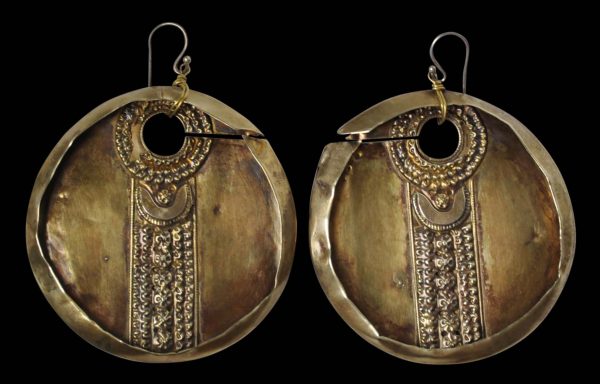 3527
Enquiry about object: 3527
Nepalese Pair of Woman's Gold Earrings (Chepti Sun)
Nepal mid-19th century
diameters: 6cm, combined weight: 22.7g
Provenance
private collection, UK.
This fine pair of ear ornaments is from the people of the middle hills, particularly the Tamang, in Nepal. The pair is of hammered gold alloy sheet (the name chepti sun means 'flat gold'). The gold is hammered until quite thin and then strength to each ornament is gained by folding over the edges.
The interiors are decorated with applied decorative gold bands which include a crescent motif.
Originally, these were worn without a wire hook and the distended ear lobe was pushed through the hole in the middle. Often they were worn without being taken out.
A related pair, also attributed to the mid-19th century, is illustrated in Ghose (2016, p. 80).
The earrings are in fine condition. There are some minor age-related losses to the detail of the interior decoration, but otherwise, they are stable and wearable. Gold wire hooks have been added to the tops to make the ornaments wearable as earrings in a modern manner, but these are non-invasive and can be removed without any loss or damage to the original structure of the ornament.
References
Gabriel, H., Jewelry of Nepal, Thames & Hudson, 1999.
Ghose, M. (ed.), Vanishing Beauty: Asian Jewelry and Ritual Objects from the Barbara and David Kipper Collection, Art Institute of Chicago, 2016.