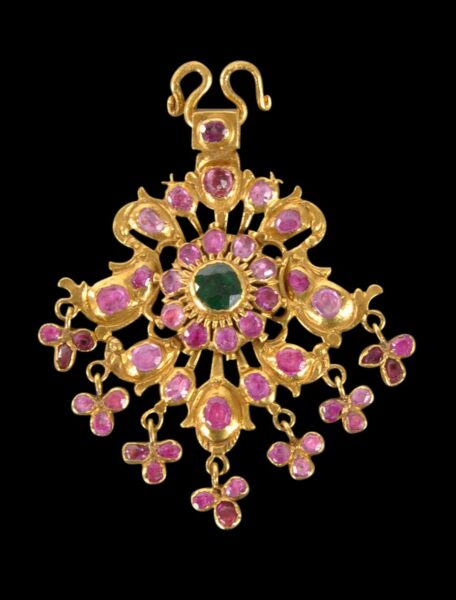 9024
Enquiry about object: 9024
Thai Courtly Gold Pendant set with an Emerald & Rubies
Bangkok, Thailand 19th century
length: 5.7cm, width: 3.9cm, weight: 16g
Provenance
private collection
This fine high-carat, solid-gold pendant with a floral design, is richly ornamented with dozens of rose-cut rubies around a large central emerald. There are seven suspended tri-foliate dangles, each set with three rubies.
The gold on the  reverse of the pendant has been engraved so that the structure has the appearance of bunched seed pods.
Such pendants were made in Bangkok in the 19th century and were based on court jewellery. Indeed, many such pieces would have been made for minor royals of whom there were many on account of the extraordinary polygamy of the primary court. Mid-19th century Siamese court dress for ladies was elegant but simple which was perfect for the addition of complex, gem studded brooches, necklaces and pendants.
The Chakri Dynasty kings were very influenced by European fashions and this flowed through to dress and jewellery. The enormous prestige of the Chakri Dynasty saw these influences emulated by the rest of the upper echelons of Bangkok society.
Similar pendants are illustrated in Richter (2000, p. 94-95).
The pendant is in excellent condition. All stones are present. The pendant is stable and wearable.
References
Richter, A., The Jewelry of Southeast Asia, Thames & Hudson, 2000.