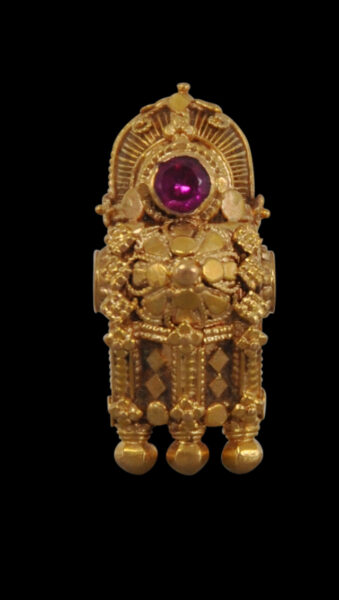 5876
Enquiry about object: 5876
Indian Ruby-set Gold Marriage Tali Pendant
Tamil Nadu, South India early 20th century
length: 2.6cm, width: 1.3cm, weight: 4.33g
Provenance
private collection, UK.
This small, gold pendant is a marriage pendant known as a tali from Tamil Nadu. It is made from gold sheet, with gold granulation work and other decoration. It is set with a faceted ruby (or similar).
The reverse is decorated with applied wire-work in a tree-of-life motif.
A similar example, but in sheet gold, is illustrated in Aitken  (2004, p. 108).
Marriage pendants were given to a bride at the time of her wedding and usually were worn until the first anniversary of the marriage. They were specific to communities and castes in Tamil Nadu: one was able to tell the caste or local ethnic community of the wearer based by the type of tali worn.
The shape of tali pendants derived either from the stylised, anthropomorphic image of a man, of from the U or V shape said to originate from the form of Vishnu's feet.
The tali pendant here is in fine condition.
References
Aitken, M.E., When Gold Blossoms: Indian Jewelry from the Susan L. Beningson Collection, Asia Society & Philip Wilson Publishers, 2004.
Bala Krishnan, U.R. et al, Icons in Gold: Jewelry of India from the Collection of the Musee Barbier-Mueller, Somogy, 2005.
Daalder, T., Ethnic Jewellery and Adornment: Australia, Oceania, Asia, Africa, Ethnic Art Press/Macmillan, 2009.
Untracht, O., Traditional Jewelry of India, Thames & Hudson, 1997.