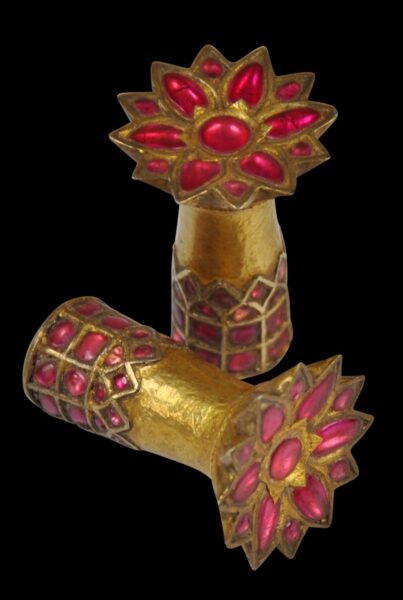 8724
Enquiry about object: 8724
Pair of Assam Gold & Ruby Lotus Ear Plugs (Thuria)
Assam, North Eastern India 19th-early 20th century
length: approximately 3.2cm, width: 2.4cm, combined weight: 16g
This evocative pair of slender ear plugs are of thin gold over a substrate and set with rubies in kundan settings. They are in the form of lotus blooms, which are associated with purity on account of their beauty but having risen from muddy water.
The undersides of the 'petals' are chased with lines to emulate the striation that real lotus petals have.
The ends and undersides are set with ruby cabochons – the rubies are arrayed in the way that denotes the segmented cross-section seen when a lotus stem is cut.
Similar examples are illustrated in Aitken (2004, p. 87), and Dehejia (2003, p. 235), Richter (2000, p. 76), and Ganguly (2007, p. 61).
Such ear plugs were worn by upper class women in Assam when it was under Burmese rule during the 19th century. The invasion of Assam by the Burmese significantly influenced local culture. In this way, this pair of ear plugs can be seen to have courtly Burmese influence.
The making of holes large enough in the ear lobe to wear such ear plugs – known as ear boring – was an important ceremony in a young girl's life. Professional ear borers were used and often a horoscope was consulted to determine the most auspicious time. The process would take several days as the holes were stretched and then given time to heal.
The examples here are in fine condition and are without losses.
References
Aitken, M.E., When Gold Blossoms: Indian Jewelry from the Susan L. Beningson Collection, Asia Society & Philip Wilson Publishers, 2004.
Dehejia, V., The Sensuous and the Sacred: Chola Bronzes from South India, American Federation of Arts/Mapin, 2003.
Ganguly, W., Earrings: Ornamental Identity and Beauty in India, B.R. Publishing Corporation, 2007.
van Gelder, B., Traditional Indian Jewellery: The Golden Smile of India, ACC Art Books, 2018.
Richter, A., The Jewelry of Southeast Asia, Thames & Hudson, 2000.