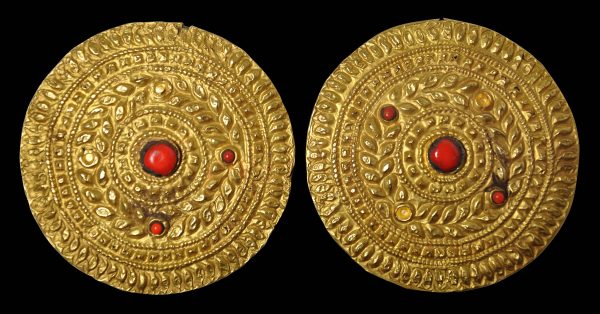 2753
Enquiry about object: 2753
Pair of Gold & Coral Ear Ornaments (Godwari or Mendog Kogde)
Sherpa People, Nepal-Tibet 19th century
diameter: 7cm (each), combined weight: 37g
These earrings are won by Sherpa women, typically in Eastern Nepal. They are called variously mendog kogde (Daalder, 1999, p. 305) or godwari or marigold after the flower they resemble (Gabriel, 1999, p. 132). They comprise a thin repousse gold layer over a copper disk. Each is inset with two coral cabochons (spaces exist for two more cabochons on each.)
They are attached to the ear lobe via a thick post and in the pair here, a gold chain is added that is worn over the tope of the ear to support their weight. Small turquoise stones in black pitch form the centre of each earring.
A related pair is illustrated in Daalder (1999, p. 304) and in Hoek (2004, p. 180). Illustrations of a similar pair being worn by a Sherpa woman are published in Gabriel (1999, p. 114, 132).
References
Daalder, T., Ethnic Jewellery and Adornment: Australia, Oceania, Asia, Africa, Ethnic Art Press/Macmillan, 2009.
Gabriel, H., Jewelry of Nepal, Thames & Hudson, 1999.
Hoek, C., et al, Ethnic Jewellery: From Africa, Asia and Pacific Islands, Pepin Press, 2004.