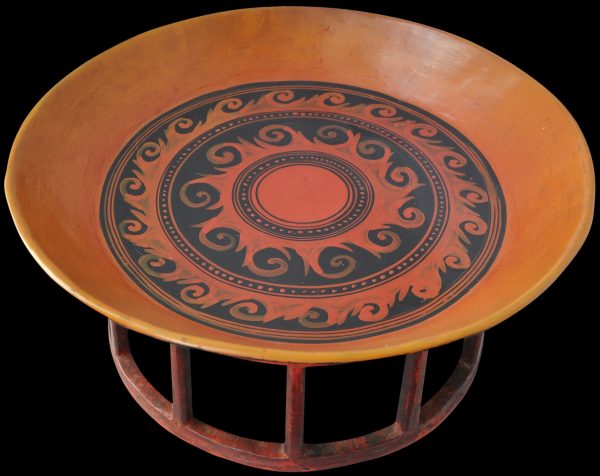 1205
Enquiry about object: 1205
Burmese Lacquered Tray on Stand (Kalat)
Shan States, Burma circa 1920
diameter: 53cm, height: 24cm
This kalat (also known as a daung-lan) is a small table or tray with attached stand is from the Shan States of Eastern Burma, most probably from the Intha people of Inla Lake in Yawnghwe State. It is painted with lacquer rather than having the lacquer thickly applied as with pieces from elsewhere in Burma. The lacquer has been applied to a fine bamboo base. The red lacquer ground is over-painted with a black hooked spiral pattern, which is typical of the region. The underside of the tray is in black.
The gently concave circular tray is fixed to a ring which is attached to eleven pegs which in turn are attached to another ring. Kalats were designed as food trays that were placed on the floor and from which food was served communally. Diners would sit around it, also on the floor, and so the kalat would be at waist level. Dishes of food were placed in the centre of thekalat and each diner would have a plate and would help himself from the kalat.
See Isaacs & Blurton (2000, p. 99), Fraser-Lu (200, p. 97) and Conway (2006, p. 160) for related Shan States kalats.
The item was acquired in the UK and almost certainly has been in the UK since the colonial era – its hues have mellowed and yet the condition is excellent: there are no significant losses to the lacquer and no repairs. The bold design allows the item to fit into a modern or traditional decor.
References
Fraser-Lu, S., Burmese Lacquerware, White Orchid Books, 2000
Isaacs, R., & T.R. Blurton, Burma and the Art of Lacquer, River Books, 2000
Conway, S., The Shan: Culture, Arts & Crafts, River Books, 2006