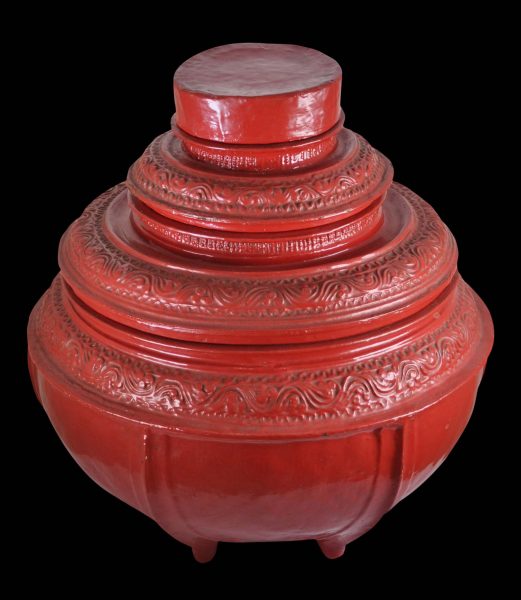 5009
Enquiry about object: 5009
Burmese Lacquered Food Offering Vessel (Ok-Kwet)
Burma early to mid-20th century
height: 35cm, diameter: 36cm
This vessel known as an ok-kwet (and sometimes as a hsun-kwet) is of a woven bamboo substrate that has been thickly coated in rich, cinnibar red lacquer.
It comprises five pieces – the large base; a tray which sits in the neck of the base; a cover (which also serves as another dish); another cover which sits atop this (and which also serves as another, smaller dish); and a flat-topped cover, which when inverted can serve as a bowl. (An ok-kwet is a more squat version of a taller vessel topped with a spire known as a hsun-ok. Typically, these are decorated in either red or black lacquer.)
Traditionally, an ok-kwet, as with a hsun-ok, was used by well-off Burmese families to present food offerings to a monastery. The large base would have held rice. The upper covers/trays might have held curry-like accompaniments. And the bowl or lid on the top might have been used as a drinking cup for water.
The base sits on six short feet. The sides are ribbed, and there are borders of moulded stylised orchid scrolling relief (thazin gway), as with several of the other components.
The vessel possibly is from Prome (Pyay) a city in Burma's south, where such items are known to have been made, or from Pagan (Bagan) where similar pieces also were made.
Similar examples are illustrated in Than Htun (2013, p, 56), Fraser-Lu (1994, p. 229), Fraser-Lu (2000, p. 126), Isaacs & Blurton (2000, p. 200, 205) and Green (2008, p. 178).
In terms of condition of the example here, there are minor chips to the edges of the lacquer here and there, as is typical, but overall, the condition is very fine.
References
Fraser-Lu, S., Burmese Crafts: Past and Present, Oxford University Press, 1994.
Fraser-Lu, S., Burmese Lacquerware, White Orchid Books, 2000.
Green, A., (ed.), Eclectic Collecting: Art from Burma in the Denison Museum, NUS Press, 2008.
Isaacs, R., & T.R. Blurton, Burma and the Art of Lacquer, River Books, 2000.
Isaacs, R., et al, Laque et Or de Birmanie, Silvana Editoriale, 2011.
Than Htun (Dedaye), Lacquerware Journeys: The Untold Story of Burmese Lacquer, River Books, 2013.