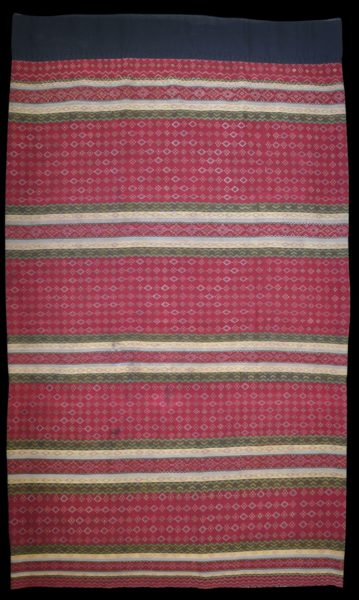 6387
Enquiry about object: 6387
Chin Woman's Woven Silk Tube Skirt (Hni Tial)
Hakha Chin People, Chin State, Western Burma (Myanmar) circa 1950
118cm x 69cm
This fine example of a woven tube skirt is from the Hakha Chin minority of western Burma.
Of woven silk textile with additional embroidery, it is of red ground with green, yellow and cream stripes with geometric tial patterning.
It comprises one piece of fabric that has been sewn into a tube to allow it to be worn as a skirt.
Silk imported from China was frequently used among the Chin to weave their textiles.
This skirt is free of repairs and insect damage. There is some minor usage-related staining here and there.
References
Dell, E. & S. Dudley (eds.), Textiles from Burma, Philip Wilson Publishers, 2003.
Green, A., (ed.), Eclectic Collecting: Art from Burma in the Denison Museum, NUS Press, 2008.