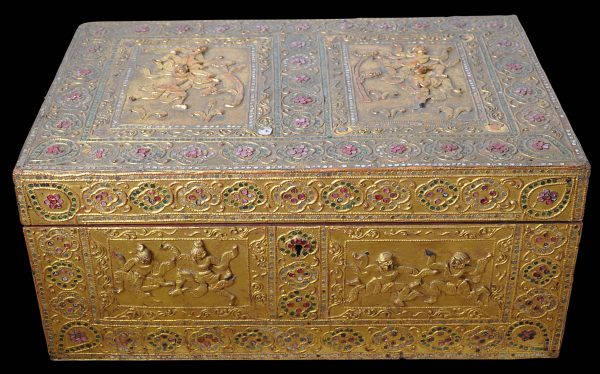 3648
Enquiry about object: 3648
Burmese Gilded Lacquer & Wood Storage Box
Burma 19th century
length: 46cm, height: 20.5cm, depth: 30cm
This wooden box is entirely covered in moulded lacquer-work in relief (known as thayo work) and gilding (gold leaf) and has been inlaid with small pieces of glass backed with red, green and silver foil (a process known as hman-zi swei-cha).
The front and hinged lid are each decorated with two panels each with two frolicking figures in Burmese dress. The sides are decorated with single panels of pairs of figures.
The back is gilded but otherwise plain. This side was intended to go against a wall.
The box is fitted with a lock (the key is long gone).
The interior is decorated with red lacquer.
Such boxes did not necessarily serve a religious or monastic function. Most probably it was used to hold valuable personal objects. Fraser-Lu (2000, p. 172) illustrates a box with similar decoration which served as the jewellery box of the consort of the last Burmese king, Queen Su-hpaya-lat.
The box here is in fine condition. As might be expected, there are some losses to the applied thayo work, and some of the inset mirrored glass inlay has also been lost. But overall, the box is in a fine, robust condition. It was acquired in the UK and most probably has been in the UK since colonial times.
References
Fraser-Lu, S., Burmese Lacquerware, White Orchid Books, 2000.
Isaacs, R., & T.R. Blurton, Burma and the Art of Lacquer, River Books, 2000.
Than Htun (Dedaye), Lacquerware Journeys: The Untold Story of Burmese Lacquer, River Books, 2013.