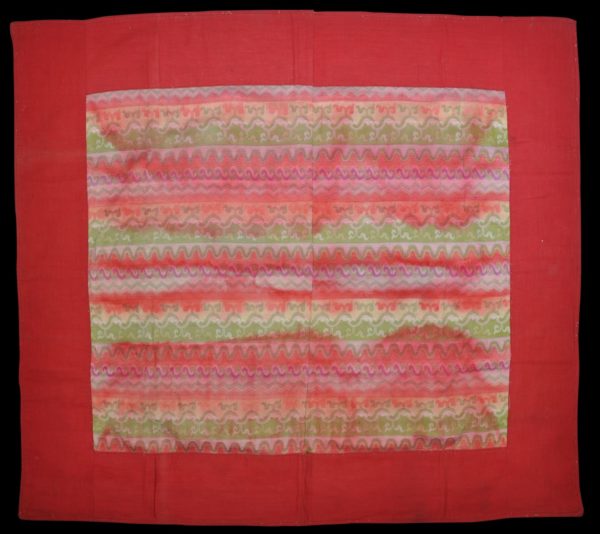 6386
Enquiry about object: 6386
Burmese Royal Silk Achiek Cloth Sutra Cover
Burma (Myanmar) 19th century
70cm x 78cm
This sutra cover has been made from a woman's court textile that was made in Burma and used either in Burma (most probably Mandalay) or in Lanna in northern Thailand. The textile is woven from silk using the luntaya weaving technique and has the undulating acheiq motif that tended to be reserved for court ladies.
The textile has been converted to a covering for a religious manuscript. Quite possibly, a court lady donated her court dress to a monastery as an act of merit after which it was cut and sewn into sutra covers. It has a wide red border and the reverse is backed with a striped cotton fabric.
According to Kunlabutr (2004, p. 28), nobles and officials who were not members of the royal family could only wear luntaya-acheiq textiles if they had been cast off by a member of the royal family first.  'In some cases, luntaya-acheiq textiles were cut into pieces and used as protective wraps for sacred Buddhist manuscripts in the same way that it was done in neighbouring Buddhist countries such as Thailand, Laos and Cambodia. These beautiful and valuable textiles were donated by the descendants of nobility who had worn them, thus making Buddhist merit for the donors.'
The reverse has a brief inscription stamped in black ink.
A similar example is illustrated in Fraser-Lu (2021, p. 181).
This is a rare item. There is some running of the natural dyes caused by moisture but no insect damage or repairs. The wear to the luntaya-acheiq is consistent with its purpose – it was meant to have been worn first and then donated to make a sutra covering.
References
Fraser-Lu, S., Textiles in Burman Culture, Silkworm Books, 2021.
Green, A., (ed.), Eclectic Collecting: Art from Burma in the Denison Museum, NUS Press, 2008.
Kunlabutr, P., Burmese Court Textiles – 'Luntaya-acheiq', Amrin Printing & Publishing, 2004.