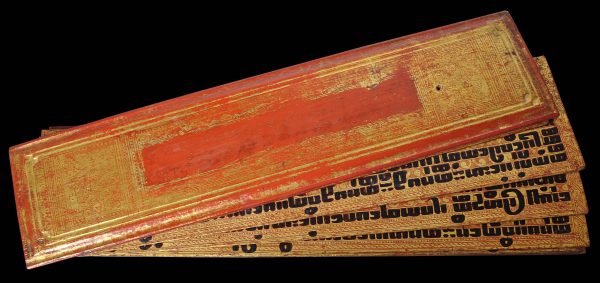 4253
Enquiry about object: 4253
Lacquered & Gilded Kammavaca
Burma 19th century
length: 57cm, width: 13.6cm - 16 leaves & 2 covers
Provenance
private collection, London
This gilded and red and black lacquered kammavaca (or kammawa-sa) manuscript set comprises two wooden covers with gold leaf shwe zawa work on the outer face, and sixteen unbound 'pages.' Each page is numbered sequentially from kha togi. All pages are present; none have been lost. Each page has been inscribed with an extract from one of the nine khandakas, a section of the Pali Vinaya Pitaka which sets out the rules of conduct for Burmese Buddhist monks and novices.
The leaves of this example have been made from textile – sometimes the old robes of a venerated monk were used – that was lacquered and cut into rectangular 'pages'. Kammavaca leaves can also be made from lacquered palm leaf, ivory, copper and brass sheets. The covers and the outer faces of the introductory leaves are decorated with devas and other celestial beings within panels amid complex foliate scrolling borders.
Each leaf is decorated on both sides with six lines of square Burmese script in black magyi zi lacquer made from tamarind seed, between hatched (yazamat) borders. Small birds are shown amongst the foliage between the black script. Each leaf is numbered in Burmese script.
The pages are read horizontally and are turned away from the reader as it is finished and the next one is commenced.
A small hole in the covers and in each page allowed for a bamboo pin to be driven through the set to hold it together when not in use. Kammavaca manuscripts often were presented to novice monks on their joining a monastery, or to mark the ordination of a monk. They were also commissioned and presented to monasteries to mark life cycle events such as an important birthday, graduation, marriage or birth.
The condition is relatively good. There is some minor chipping to the corners of the pages, rubbing to the outside of the covers and some chipping to the lacquer on one of the covers.
References
Fraser-Lu, S., Burmese Lacquerware, White Orchid Books, 2000.
Fraser-Lu, S., & D.M. Stadtner, Buddhist Art of Myanmar, Asia Society Museum, 2015.
Isaacs, R., & T.R. Blurton, Burma and the Art of Lacquer, River Books, 2000.
Lowry, J., Burmese Art, Victoria and Albert Museum, 1974.
Singer, N., 'Kammavaca texts: their covers and binding ribbons', in Arts of Asia, May-June 1993.