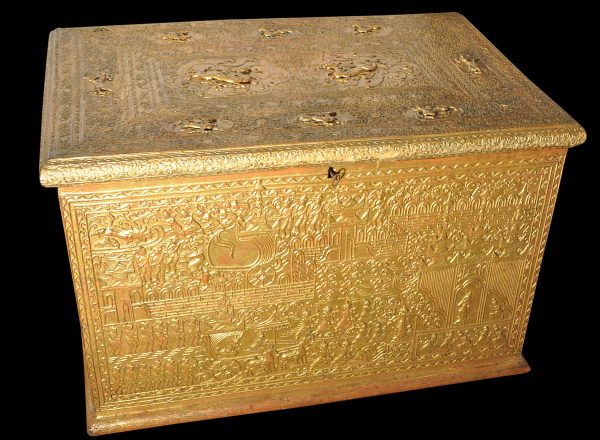 1181
Enquiry about object: 1181
Gilded & Lacquered Manuscript Chest (Sadaik)
Burma early 20th century
length: 99cm, height: 65cm, width: 62cm
This manuscript chest or sadaik is decorated on all sides and on the lift-up hinged top with gilded molded relief work, a technique known as thayo.
Such a chest was placed in a monastery on a stand away from the harm of mice and water, but usually the chests and the stands became separated. The decorated top is highly unusual. Typically it is the sides only that are decorated with molded lacquer relief; the tops are left plain.
The front panel is decorated with scenes from the Great Departure, when the Buddha chooses to leave life as a prince to follow the life of an ascetic. The popular biography of the Buddha has him leaving his palace at the age of 29 to meet his subjects. He meets the sick, the aged and the suffering despite his father's efforts to hide such realities from him. He sees an old man and the prince's charioteer explains to him that all people grow old. The Buddha takes more trips and encounters a diseased man, a decaying corpse, and an ascetic. He becomes depressed and decides to leave the palace and adopt the life of a mendicant.
The right hand side of the front panel shows the Buddha in the palace which is conventionally depicted with three tiered towers (pyathat). He then leaves the palace in a horse drawn coach. His journey outside the palace walls is shown. The panel on the right-hand side of the chest shows more departure scenes. The panel on the left side of the chest shows the Buddha before a river. Its waves are shown clearly and in the river are three horses and several elephants.
The top is attached to the base via metal hinges. The interior of the chest is decorated with plain red lacquer.
The chest is in very good condition. There are few losses to the lacquer relief. Parts of the exterior where the gilding might have worn thin have a later coating of powdered bronze paint. The lid has a slight age-related warp although still closes readily.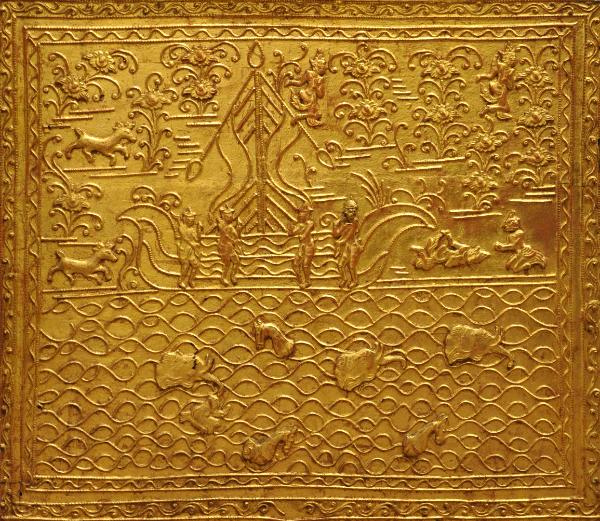 This panel on the left side of the chest shows the river which the Buddha is said to have crossed. Horses and elephants can be seen among the waves. A figure on the left between an elephant and a horse can be seen too. Possibly this is meant to be the Buddha. This scene on the panel on the right side of the chest shows more palace scenes. The front panel of the chest shows various scenes relating to the Buddha's departure from the palace. The palace, with its three tall tiered spires, can be seen on the right.
References
Fraser-Lu, S., Burmese Lacquerware, White Orchid Books, 2000.
Isaacs, R., & T.R. Blurton, Burma and the Art of Lacquer, River Books, 2000.
Conway, S., The Shan: Culture, Arts & Crafts, River Books, 2006.