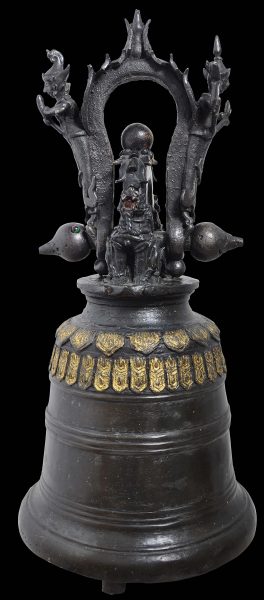 2153
Enquiry about object: 2153
Large Burmese Temple Bell & Hanging Bracket
Burma circa 1850
height with hanging bracket: 65cm, diameter of base of bell: 30cm, height of stand: 85cm
Provenance
UK art market.
According to Bennett (2011, p. 200), the offering of a metal bell to a monastery or temple was considered second only to the offering of a Buddha image as an act of merit. Casting of such bells was auspicious with specific rituals being performed by the metalsmith and sponsors to ensure the appropriate blessings. Some bells, according to Fraser-Lu (1994, p. 132), weigh up to 90 tons.
This large, heavy bronze bell and cast bronze hanging bracket is from Burma, possibly from the Shan States. The bell, as with all such Burmese bells, does not have a clapper. It was designed to be struck from the outside by a wooden striker. It is of classic bell shape with several rows of engraved concentric circles and two upper rows of lotus petals which have been gilded. The upper section of the bell has been cast with a pair of chin-thei (Burmese lions) which guard the holding ring. Typically, such bells were cast from an alloy of mostly copper with some tin and occasionally a small quantity of lead.
The hanging bracket is attached to the bell by means of an iron rod which passes through the holding ring. This has lotus bud finials at either end, one of which is removable to allow the rod and bracket to be removed from the bell.
The hanging bracket has been cast separately to the bell. Typically, a donor would select a bell and then select a hanging bracket with the bracket having some sort of personal significance to the donor such as being cast with figures relevant to the day of the week on which the donor was born. It has been elaborately cast with two outward looking kinnaras to either side, who are differentiated only by the differing plumes on their hats.
With both the bell and the bracket having different purposes, the composition of the metal used to cast both often varies, with the metal composition for the bell being chosen on the basis of what will provide the best toned bell when struck, and the metal mix chosen for the support being determined by its strength and malleability.
The bell is in excellent condition, has a deep, dark patina and a wonderful, deep ring when struck. The hanging bracket has a similar dark patina and also is without losses.
The bell and bracket have a custom-made stand of black-painted metal.
Below: A similar, bell in use at Rangoon's Shwedagon Pagoda, late 19th century.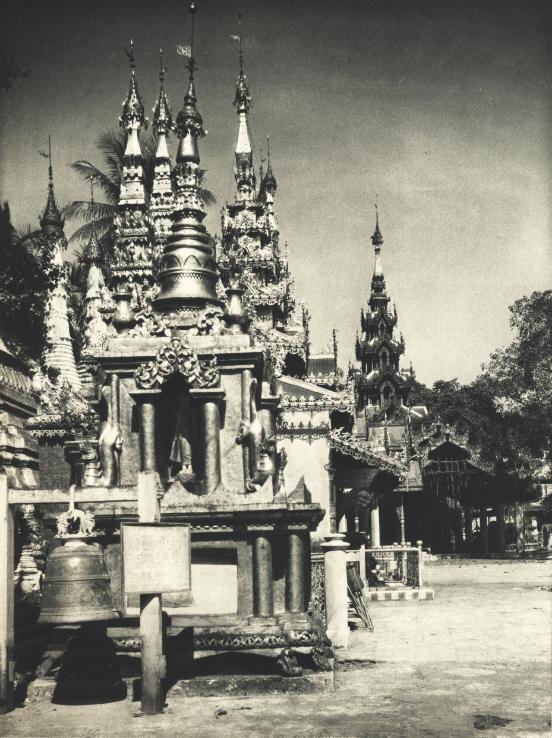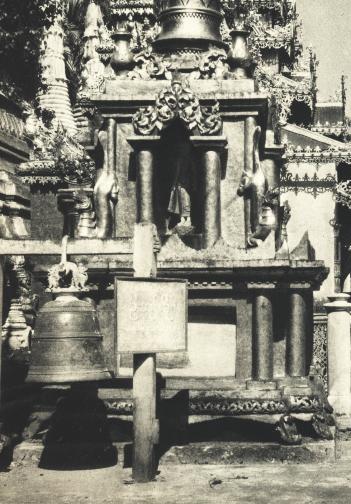 References
Bennett J., Beneath the Winds: Masterpieces of Southeast Asian Art in the Art Gallery of South Australia, Art Gallery of South Australia, 2011.
Conway, S., The Shan: Culture, Arts & Crafts, River Books, 2006.
Fraser-Lu, S., Burmese Crafts: Past and Present, Oxford University Press, 1994.
Stadtner, D., Sacred Sites of Burma: Myth and Folklore in an Evolving Spiritual Realm, River Books, 2011.