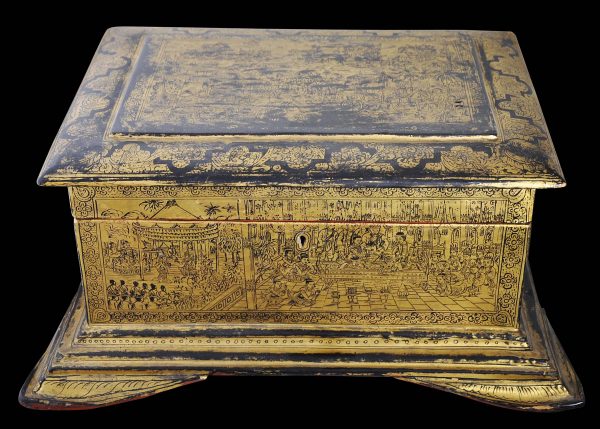 4250
Enquiry about object: 4250
Rare Burmese Shwezawa Lacquer Chest
Burma 19th century
height: 19.5cm, length: 43.6cm, depth: 33cm
Provenance
private collection, London; acquired by the previous owner in the UK decades ago, and probably has been in the UK since the colonial era.
This fine, well-proportioned storage chest is decorated in gold leaf and black lacquer, a technique known as shwezawa work. It is rectangular with a hinged, bevelled lid. It has a wide, tiered skirt with four slightly up-turned corners that serve as feet. It is likely that the chest was made with a simple wooden frame and that the skirting and feet are made of lacquer along with the chest's overall surface covering.
The box is decorated on all sides with scenes from the life of Buddha.
The lid is decorated with the four signs, the departure and the tonsure ceremony.
The front panel is decorated with palace scenes.
The left side panel is decorated with the birth of the Buddha and the seven steps.
The right side panel is decorated with the archery contest. A multitude of arrows can be seen overhead.
The back panel shows the royal ploughing ceremony, and mediation.
The interior is decorated in orange-red monochrome.
The box was intended as a storage box perhaps for something regarded as special or valuable; it was fitted with a lock.
There is some surface rubbing to the shwezawa work. This is inevitable in genuinely older pieces. There are no other losses or repairs. The box was fitted with a lock originally but this is no longer present. The chest is surprisingly light.
References
Fraser-Lu, S., 'Sadaik: Burmese manuscript chests', in Arts of Asia, May-June 1984.
Fraser-Lu, S., Burmese Lacquerware, White Orchid Books, 2000.
Isaacs, R., & T.R. Blurton, Burma and the Art of Lacquer, River Books, 2000.
Than Htun (Dedaye), Lacquerware Journeys: The Untold Story of Burmese Lacquer, River Books, 2013.