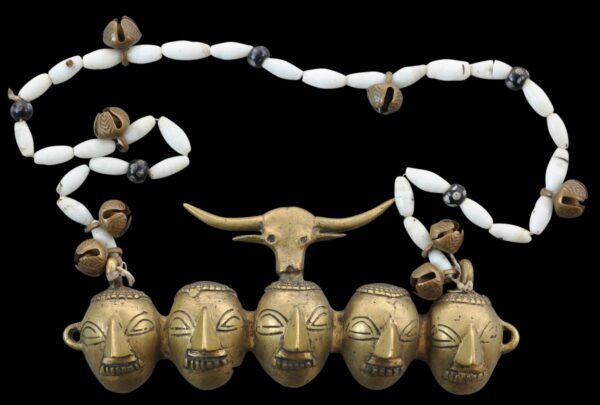 9294
Enquiry about object: 9294
Exceptionally Rare Naga Headhunter's Necklace with Five-Heads & Buffalo
Naga People, Burma/India early 20th century
circumference: approximately 65.5cm, length of brass pendant: 16.7cm, weight: 205g
Provenance
private collection, US
This extremely rare Naga trophy head necklace comprises a cast brass pendant of no less than five severed human heads surmounted by a buffalo head, suspended from a strand of white elongated beads fashioned from chank shell, cast brass bells, and polka-dot black glass trade beads, most probably from Venice and which date to the 19th century.
The heads are particularly well cast and feature open mouths of grimacing teeth.
Necklaces of this type with representations of human heads traditionally were reserved for successful headhunters – those who had taken heads. A necklace of five heads is extremely rare. The addition of the buffalo head to the five heads is almost unprecedented, and suggests that the owner was particularly accomplished and of extremely high status.
Giehmann (2001, p. 103) illustrates a (much cruder) example of a trophy head pendant with three heads and surmounted by a particularly crude buffalo head.)
All elements have a good patina. The brass trophy head pendant shows good signs of age and contact wear on the reverse.
The Naga comprise a series of related tribal groups concentrated in the border areas of north-eastern India and eastern Burma. They were attracted to rare goods that could be bartered from outside their region. Beaded necklaces were very popular as a show of finery but also as a portable means of displaying and carrying wealth. The components that went into making necklaces were regarded as currency items themselves. Beads and necklaces were accumulated as heirlooms and were passed as dowries and down through generations.
The necklace here is an outstanding collector's piece.
References
Barbier, J.P., Art of Nagaland: The Barbier-Muller Collection Geneva, Los Angeles County Museum of Art, 1984.
Borel, F., The Splendour of Ethnic Jewelry: From the Colette and Jean-Pierre Ghysels Collection, Thames & Hudson, 1994.
Giehmann, M., Naga Treasures: Tribal Adornment from the Nagas – India and Myanmar, 2001.
Jacobs, J., The Nagas: Hill Peoples of Northeast India, Thames & Hudson, 1990.
Panini, A., Middle Eastern and Venetian Glass Beads: Eighth to Twentieth Centuries, Skira, 2007.
Saul, J.D., The Naga of Burma: Their Festivals, Customs and Way of Life, Orchid Press, 2005.
Shilu, A., Naga Tribal Adornment: Signatures of Status and Self, The Bead Museum, Washington, 2003.